A 24-hour beat
Eudora police keeping an eye on the city around the clock
By most standards, Eudora would qualify as a pretty safe city. Crime takes place, but it does so a bit more sparingly than in other locales. A complaint about a barking dog here. A drunken driver there. On a bad day, perhaps a burglary.
"This is a quiet city," says Bill Long, Eudora's longtime police. "Eudora has a lot of nice people. We don't have a whole lot of crime."
Still, Eudorans can sleep a little more soundly each night knowing someone is not sleeping.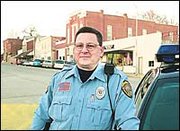 The city went to 24-hour policing about 3 years ago. There are usually two officers on duty quite a difference from the not-so-distant past when Eudora fell under the jurisdiction of the Douglas County Sheriff's Department during the wee hours of the morning.
"The only trouble was the sheriff's department started getting real busy, to the point where they couldn't baby-sit our town and take care of their own calls, too," said officer Greg Dahlem, a lifelong Eudoran and 12-year veteran on the force.
The solution was obvious. A town that had doubled in size over the last 10 years needed round-the-clock policing. Long was given about $100,000 additional funding from the city budget to increase the protection. The next city budget in July also will include a increase in funds for the police department, said city council member Dan Gregg. Two new officers will be added to the force in July, he said.
"That should ease the burden of 24 hour protection," Gregg said.
Thus far, the results have been marked, according to Dahlem.
"We have more people living here now. We have the same crime we had, but we have more people to report it now," Dahlem said. "Eudora hasn't gotten any more dangerous than it's ever been, but it's certainly gotten more busy."
More people and more policing have meant more paperwork.
"We've had a dramatic increase in reports," Dahlem said.
Not to mention an occasional headache or two.
Long fielded more than 50 calls from members of the media after University of Kansas basketball player Lester Earl drove through town late on the night of Jan. 22 while allegedly under the influence of alcohol.
Were it not for the 24-hour policing, Earl might have driven through town without incident. One benefit of the round-the-clock policing is it has allowed the Eudora Police to crack down on intoxicated drivers.
"We're definitely aggressive when it comes to drunk driving," Dahlem said.
When there is trouble at night, Dahlem said there is a pretty good chance alcohol is involved.
"After midnight, there aren't a lot of calls, but the people finding trouble at that time of night normally are either intoxicated or from a different walk of life," he said.
With a limited staff, Long's challenge comes in making sure the city has the best policing possible at all times. Before the round-the-clock protection, Long would rotate nights of 24-hour patrolling.
It might be a Monday, Wednesday and Friday one week.
Perhaps a Tuesday and weekend the next.
Whatever it took to keep the criminal element off guard.
"We didn't want people knowing when we had officers on duty around the clock," Long said.
Just in case, it needed a reminder, the Eudora Police Department found out the hard way that it too was, in fact, being watched. A few years back, there was a string of school burglaries in the county.
One night, the burglar drove past the police station and noticed a squad car. He waited and watched. The officer on duty was inside getting caught up on paperwork.
While the officer worked, the burglar broke into the nearby middle school. As he was coming out, he still noticed no activity from the police station. He wondered if the officer was sleeping or if the squad car in front was just a decoy to make it look as though someone was on duty.
On his way out of town, the burglar broke into West Elementary.
The man was apprehended a few days later, but the lesson was learned.
"An officer has to be out. He has to be seen," Dahlem said. "If you have a report, take it out with you. Park and write for a while. Then drive for a while. At least you're out."