Dancin' with Dad
Jaycees hold father-daughter dance
Nine-year-old Rita Bass had her first date last Saturday night. She went dancing with dad.
The annual Jaycees father-daughter dance at Eudora West Elementary School featured a sock-hop theme and attracted about 150 people the Bass family among them.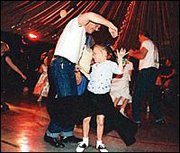 "It was fun," said Rita, a third-grader at Nottingham Elementary School. "I got to wear a poodle skirt with a three-quarter skirt and we danced a lot."
That's what it was all about, says Pamela Bass, Rita's mother and the president of the Eudora Jaycees. The bond between a father and son is usually one that comes easily. A father-daughter relationship might require a bit more work.
"We're just trying to help," Pamela Bass said. "It gets dads out, interacting more.
"You always hear of dads going out to the ballgame with their sons," she said. "This is something special something they can do that they will remember."
Rita Bass came out of the dance with plenty of memories: her attire, her father Marion's choice of a white shirt and a pair of slacks, and, of course, the dancing itself.
"We danced to some jazz, some rock 'n roll and some country," said Rita, recalling that her father, while not Eudora's version of Fred Astaire, wasn't half bad when it came to dancing country-style.
The Jaycees perform plenty of charity fund-raisers throughout the year, but Pamela Bass wouldn't label this event as a means of making money.
It's not set up to be a money maker," she said. "Whatever money we made off this dance will go right into the fund for next year's dance.
"This dance was set up to create lasting memories for everyone," she said. "To see all the little girls come in all dressed up and see their eyes light up, that was a pretty neat memory."
More like this story