Replacing Bloom is school board's top priority
On Thursday night, Superintendent Dan Bloom's letter of resignation will officially be accepted by the Eudora Board of Education, which has had an entire week to begin charting a new course under new leadership for the school district.
Bloom said Tuesday he had asked the board last fall to allow him to make a two-year transition into leaving the district. This would allow him to begin grooming a replacement.
However, the board voted down that suggestion, Bloom said.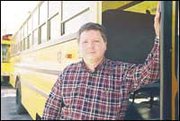 Now, it remains to be seen how the school board might approach replacing Bloom.
"A lot will come out after Thursday's meeting," said school board member Marion Johnson.
There are two schools of thought when replacing a leader. The school board can choose to hire from within the district to maintain the momentum and continuity Bloom had helped create in his 17 years at his post. Or it can choose to bring in a qualified candidate from outside the school district who would bring a different perspective.
"It's still early," said board member Joe Pyle. "I don't know if there is anyone internally at this point. I haven't seen a candidate pool.
"We want the best person we can find. It's as simple as that."
That could mean a third option, said board member Kenny Massey: Hiring an interim superintendent. Because Bloom's resignation comes so late in the school year, some board members fear that highly qualified candidates have been hired.
"The only advantage I can see at this point of the game is we just don't know how many good applicants are left because a lot of districts have already hired their superintendents," Massey said.
"Hiring an interim gives us a fresh start next year sooner, when more people are looking for jobs. I believe there is an interim somewhere."
Before the school board does anything, board president Mark Chrislip said it would consult with the state board of education about some of the state's best candidates to replace Bloom, who apparently had fallen out of favor with the school board.
The friction between the superintendent and the school board had reached a point where, according to one member, Bloom was in jeopardy of not being offered a new contract in late June, when his existing contract expired.
"The handwriting was on the wall," said board member Carlie Abel. "I couldn't see him (getting a new contract) I think for each board member it was a different line of reasoning or dissatisfaction."
Bloom said he knew it was time to resign when the job became just that a job.
"I'm tired of it. The fun factor had just worn off," he said last Friday, one day after The Eudora News reported on its Web site that he had submitted his resignation. "I wasn't having any fun. I was tired of the constant struggles. I figured it was time to let someone else take over."
Abel said the subject of Bloom's resignation was broached in an executive session at a recent school board meeting. It was then that Bloom, who began his tenure in Eudora in 1983, agreed to submit his letter of resignation to the school board by March 1.
"It was a gentlemen's agreement," Abel said.
There is speculation that the qualms the school board had with Bloom centered on personality clashes and not in the way he ran the school district. Under Bloom, the school district added two new school sites, renovated another site and continues to expand.
He was the catalyst in passing a bond issue 10 years ago that resulted in a new high school the district is on the verge of outgrowing. Bloom has been a strong advocate for another high school site, which, he said, would ease the crowding problem districtwide.
But Abel has been a strong opponent to the building of a new high school.
"There was a de-emphasis on education and his over-emphasis on facilities," Abel said. "That's what got me."