Health screening aid Eudora's elderly
As Buddy James sits in the Club Room of Pinecrest Apartments, he flips thorough the latest Reader's Digest and waits for his turn in line.
James is one of 13 community members who meet at the health screening clinic, getting checked for a variety of things like blood pressure, hemoglobin, blood sugar, weight and other health-related issues.
The service is offered through the Lawrence-Douglas County Health Department and meets every third Tuesday at Pinecrest II from 9 to 10 a.m. The cost is $1 for each individual type of screening, and is offered to anyone over the age of 50.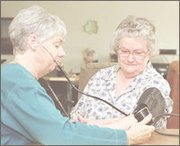 "This is a real good way to keep check of blood pressure, diabetes or hemoglobin," said James, a rural Eudora resident. "You have doctors appointments every six months, but it's a check against stuff in between. If whatever they're checking you for they're nervous about, they'll tell you to go see a doctor."
The screening is not a substitute to a doctor's appointment, but rather a supplement, helping patients track their health on a monthly basis. Clients are given a card, which tracks their screenings and allows their doctors to see progress between appointments.
"I would think it would encourage them to see their physician," said Linda Cowles, a registered nurse.
With a makeshift waiting room of recliners and sofas, resident Faye Burkhardt volunteers as secretary, sifting through files and taking money.
With a dollar bill and progress card in hand, Dale Swisher awaits his turn.
"Next," Burkhardt said.
Swisher sits down and Cowles gives him a slight needle prick, enough to draw out the tiny drop of blood needed to check his blood-sugar level. His report is good, but the nurse tells him the blood-sugar level is "a tad bit high."
"Maybe you took it out of the wrong finger," Swisher joked.
Nurse Elaine Houston said the health screening has taken place for more than 20 years in Eudora. It has been in the Eudora Nursing Center as well as in city hall. Houston said other cities have done health screenings in the past, but as participation diminished, the screenings stopped.
"We try to go out into the county and provide health services as much as we can," Houston said.
By attending the screenings each month, Hazel James said she hopes it will keep the service going.
"It saves on driving," she said. "And since they have it here, you might as well keep going so they'll continue to have it."
As the last of the patients is finished, the nurses pack up and head out. But Houston emphasizes that regardless of the screenings, patients should also see their doctors regularly.
"For people in this age group, a screen might be good but they really need complete bloodwork," Houston said.
More like this story