Not your average Red House
Eudora recording studio developing a reputation
If the faint sound of music is heard when walking down Main Street, look around. There's a Red House on the corner, and it's busy capturing the sounds of the latest musicians.
Red House Recording, located at 7th and Main, has been recording the sound of music in Eudora since 1996. The studio opened in 1988 in Lawrence
When ownership changed hands in 1996, Craig Conard, studio manager and engineer, said his co-worker and chief engineer Ed Rose was instrumental in moving Red House Recording here. As Sam Platt became owner, Rose, a veteran of the studio since 1991, told him relocating was necessary.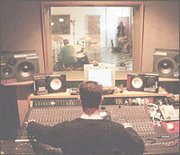 "As part of that deal, Ed told him we had to move," Conard said. "This was the cheapest, biggest building."
The building had to be big to house the four isolation booths used for instruments and vocals, two soundrooms housing the mountains of recording equipment, and the main room, used for drum recording. With an upstairs living area, and access to the equipment when not in use, Conard couldn't ask for more.
"I live upstairs, so it's kind of in my house," he joked.
Making a living at recording artists isn't always an easy task. With pressure to finish a project in an allotted time frame, some musicians break down under the stress of trying to record a perfect work as quickly as possible.
"It's a fun job, but it's really troublesome occasionally," Conard said.
"I think the hardest ones are when a band gets into a fist fight," Rose said.
Conard smiles, reveling in the spirit of rock and roll.
"Band meltdowns can be so fun," he said.
Rose recounted his worst recording experience when a band from Wichita purchased a day of recording, but had a problem much worse than fisticuffs when it came time to record.
The band would make trips to their van to take some "substances" after setting up. After several return trips to the van with the band becoming more and more "messed up," Rose could tell it wasn't going to work. The band had been in the studio for five hours, and didn't even have one song recorded. After Rose suggested they get their act together, the members decided to leave instead.
Red House has been associated with the not-so-famous artists as well as the more notable ones. Rose said he worked with author William S. Burroughs on putting many of his books on tape, including one incorporating guitar tracks from Nirvana guitarist Kurt Cobain. He has also worked with actor Steve Buscemi from the movie "Fargo."
Lawrence-based hardcore band Sextion 8 chose Red House because of its reputation, and for its availability to record its upcoming CD. After looking around, Red House was the place for this band.
"We've heard a lot of good feedback from the Lawrence area about Red House," said vocalist David Martinez. "I think the timing that they allowed us to come in helped too."
From county, rap, acoustic or rock, Conard said the studio has recorded it all. In any case, he said, musicians that work hard make the job fun.
"It's a lot of fun hearing a really good band through here," Conard said. "Sometimes the most fun is a band that comes in and you don't think they're good and they're awesome."