Neighbors object to Wakarusa Estates
When Pat Shawbaker received a letter notifying her of a public planning and zoning commission hearing on April 5 concerning Wakarusa Estates, she was furious. She and her husband, Charles, wanted to live quietly in the country and independent of the city's procedures and politics, in the community known as Rose Acres.
Now, she said, the proposed 127 single-family home development south of her home will threaten not only her solitude, but also the land around her home.
"I don't understand this city," Shawbaker said. "They just can't seem to think."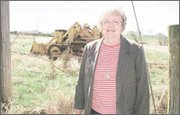 Shawbaker is concerned the change in the acreage south of her home will cause a shift in the drainage of water, causing flooding in a pond nearby. The problem: the pond's north dam also serves as a passageway to her home, and if the dam is washed out access to her home will go as well.
The Wakarusa Estates land is owned by Genevieve Tedrow, Lawrence. Tedrow owns a development company with her sons and said there is already a bulldozer on the property ready to begin work as soon as the final plans are passed.
"I think it's kind of a nervous time right now for me," Tedrow said. "I am glad to be moving on with it (the land) and doing something with it. I hope it works out well for everybody."
With a sliding glass window overlooking the east side of the pond, Richard Brown sits in his chair, examining a copy of the planned estates. With his construction and digging experience, he claims to have dug the basements for half of the new houses in Eudora. He warns that if the new development does not consider drainage problems carefully and build accordingly, the land he built his house next to may become filled with an overflow of mud.
"I've built a lot of ponds and a lot of dams, but as far as the detention area goes it better not be no rinky-dink thing," Brown said. "If you displace all that sod and grass that slows water drainoff, it will cause a problem."
The Rose Acres community is separate from the city and has no plans to be annexed. Houses are dependent on well water, and some believe the well water is better than the city's water.
Carrol Gerstenberger couldn't agree more.
"I've had people come out and get water from my well, because they said it tastes better," he said.
Gerstenberger lives south of the proposed development. He understands they're upset, but he said progress is hard to stop.
But Charles Shawbaker doesn't think the progress is worth endangering his home.
"Everybody back is on wells. If you pour all this water down the hill, it's going to flood these wells," Mr. Shawbaker said. "If that water takes out that dam, there's going to be four or five of us out there that'll be trapped."
The Planning Commission will allow citizens to voice opinions at the April meeting. After hearing feedback from the public, the commission will vote on changing the land from agriculture to single-family residential. If it passes, the commission will recommend to the city council that the zoning change, but the council will have final say.
Stan Byrne, council member, insists citizens will have their opportunity to voice any concerns, and that as of now, nothing is set in stone.
"You can stop anything," Byrne said. "They have as much time as they like (to speak), within limits, of course. We'll either vote for it or against it, and then it goes to the city council for final approval."
When the day for the hearing does arrive, Mrs. Shawbaker said she'll have the troops rounded up, and the citizens of Rose Acres will voice their opposition to Wakarusa Estates, and its developers.
"They live in Lawrence, so it's nothing to them," Mrs. Shawbaker said. "We have the right to say no, leave it agriculture."