Painting the town … Blue
Jasmin's Restaurant to open downtown next week
J. Ramirez learned a long time ago that serving the best food in town isn't always enough. A good restaurant needs a gimmick.
He found two.
Jasmin's, Eudora's newest venture into international cuisine, will open its doors for business next week. However, it has been the talk of downtown Eudora for the last month because Ramirez chose to make it a conversation piece by painting the building bright blue.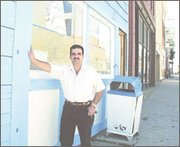 "People will know where this restaurant is," said Ramirez, who lives in Lawrence. "I wanted something that would jump out at you. A new business needs that."
In a downtown area that could be called non-descript, Jasmin's already called by some, "The Little Blue Coffee Shop," according to Ramirez is the most noticeable building going. Like a moth to the light, it attracts people.
And, once there, Ramirez is confident they'll find something to their liking.
He is starting Eudora's and quite possibly Douglas County's first Chinese-Mexican restaurant. The menu features everything from chow mein to chalupas.
"I worked in a Chinese restaurant for 15 years and I am Mexican," Ramirez said. "I know how to cook both dishes and I know people like both kinds of food. We will give the people of Eudora plenty of choices."
Ramirez is confident the building, which has undergone major construction in the last couple months, will pass a city inspection on Friday. Then it's just a matter of ordering the food, preparing it and opening his doors for business next week. His family will help him run the restaurant.
"This place is completely different than any restaurant in Eudora," he said. "I think the people of Eudora want a restaurant like this."
He had not planned to offer delivery, but a few requests for delivery service have prompted him to rethink his plans. Jasmin's will be open Monday through Saturday from 10:30 a.m. to 9 p.m. and on Sundays from 10:30 a.m. to 3 p.m.