The gift of Life
EHS

Blood drive brings to light a tale of living
Every second that Brooke O'Grady is alive is partly because of the many donations she has received. While her gifts have nothing to do with canned goods and clothing, usually associated with donating, it has everything to do with people giving blood, bone marrow, money and moral support. Gifts that have ultimately given her the gift of life.
The 14-year-old Eudora resident was diagnosed in 1996 with Hodgkin's disease, a form of leukemia, and has continually fought an on-again, off-again battle since. Brooke fights a battle against a disease working to destroy the entire body.
"There was a huge lump in my neck," said Brooke. "It literally kills (the body) actually. All I know is that it's bad."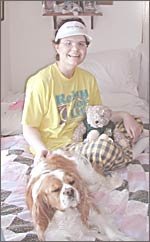 O'Grady has undergone many different chemotherapy treatments, which uses radiation to kill cancer cells in the body. However, the chemo also aids in destroying much of the body as well, bringing anyone undergoing the treatment to an immediate need of vital body fluids. In July of 1999, she was the recipient of a bone marrow transplant, from which the body needs a year to fully recover.
"She had a 10 percent chance of living without the bone marrow transplant," said Brooke's mother, Judi. "I've never seen anybody sick for so long and feel so bad."
Throughout her treatments, she has also needed blood and its different components such as platelets and red blood cells to keep her immune system strong.
Judi said while it is hard to count the actual amount of times Brooke has received blood, it is easily between 75 and 100 times, often receiving two units of blood for each visit. With that, she stresses the importance of giving blood, because the need is great.
"People definitely need to donate. It's very important." Judi said. "I've seen kids have to wait for blood."
Brooke's donations came through the Children's Mercy Hospital, Kansas City, Mo. The hospital works with blood banks in the area to keep the match of donor to recipient consistent, in order to reduce the chance of complications.
"They request that unless it's an emergency, they request the same donor," Judi said.
Amanda Storm, donor recruitment representative for Kansas Blood Services, said it is a constant struggle to find new givers, and much of the blood given is from repeat visits of donors.
"Each year, the demand grows by 11 percent, and the number of donors only grow by 3 percent," Storm said. "People need to understand; this is a critical thing."
But with some upcoming events in Eudora, locals will have the opportunity to give a little of themselves and in return help someone greatly in return.
Eudora High is sponsoring one of three annual blood drives held locally from 2 p.m. to 5:30 p.m., April 3, in the EHS gymnasium. The EHS student council sponsors this event, with others held by the Lion's Club and the Eudora Methodist women throughout the year.
EHS counselor Brian Kraus has worked with the council in planning and organizing the event along with the Kansas Blood Services, Lawrence.
"We decided that we wanted to branch out into those types of things," Kraus said. "It's a good way for us to provide a service to our community."
Donating blood is a way of giving back to the community in a literal way said Storm, because any donated blood is used in the surrounding area it was taken from.
"We are a community-based blood center and we want to help the communities that we serve," Storm said. "We don't recruit blood in areas that we don't serve the hospitals."
Another event that Brooke holds dear is the Relay For Life, an annual event that raises money for funding cancer research. Teams with 8-15 people each try to raise $1,000 for each team, and then walk for 24 hours around Lawsfield Track, south of Nottingham Elementary. Monday was the team kickoff meeting for RFL, an event that Judi said her daughter is very involved in even with her illness.
"The relay is very close to her," Judi said. "There's just no way to do enough on getting rid of this disease."
Despite her illness, Brooke is thankful for the gifts of life and support she has received from the community, and hopes more will continue to give. However, she said, any newcomers donating or supporting Relay For Life is a blessing, and a great need.
"We still need new people too," Brooke said.
Anyone interested in donating blood may contact Brian Kraus at 542-4986 for more information. For more on Relay For Life, interested parties may call Judi or Brooke O'Grady at 542-2208.