Eudora housing assessments soar
Lela and Harold Morley want to make some improvements to their home. But with a fixed income and their property value rising annually, the retired Eudora couple doesn't foresee affording home improvements any time soon.
"We need new siding but we can't afford it," Lela Morley said. "When you put new siding on, the value goes up."
According to this year's county appraisal, the couple's home is worth $92,500, a big step up from the $30,000 purchase price in 1972. Last year the Morleys home was appraised at $84,600, an increase of nearly $8,000 with no modifications to the house throughout the previous year.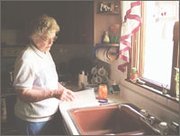 "It's been paid off for 20 years," Lela Morley said. "But you pay for it every year if you have to pay $1,000 a year in taxes. You never get the home paid for."
The couple also own a rural Eudora home they rent out. The taxes and value of that home are similar to their rural house, making their taxes nearly $2,000 each year. While the couple thinks the taxes are high, they manage to make the payments. But Harold Morley worries the continually rising cost may force them to pinch some pennies to make the payments.
"It'd be different if I could work or something, Harold Morley said, "but I can't anymore. Social Security doesn't go up to pay for the changes. It's like one hand putting money in your pocket and 15 taking it out."
To determine for residential property, the county relies on the market approach, which compares properties sold in a similar market. With this method, County Appraiser Marion Johnson said, values are influenced by what similar properties have sold for.
"It's purely driven by market demand," Johnson said. "In Douglas County the average selling price last year was $125,000. That was up about 8 percent above an average selling price of 1998. Right now we're running an average for the first four months of $132,000, up 5.5 percent."
Sherry Kerns is happy with the market demand. A Eudora High graduate in 1982, Kerns recently completed a bachelor of nursing degree at Washburn University. She accepted a job in Hays, where she and her husband moved in January.
After living in Eudora for seven years, Kerns said the couple was happy with the amount for which they sold the house. Purchasing the Winchester Estates home in 1993 for $65,500, they will close the sale of the house on May 11 for $95,000.
"We made a little bit of money for it," Kerns said.
Though the taxes were high, she said, taxes are part of living and owning.
"I thought they were expensive, but what isn't nowadays," Kerns said.