Mobile home headaches
Gardner couple have found many trailer-park woes
Gardner
Two years ago, Brian and Misty Elliot purchased a mobile home from a company owned by Tom Horner Jr. and moved into the Conestoga Mobile Home Park in Gardner.
Today, its furnishings are clean and its size ample enough for the young couple and their two children.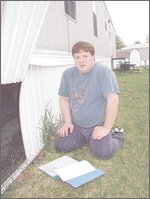 Despite having a comfortable home, the couple are fed up with the treatment they've received at Conestoga. The Elliots say they are tired of poor maintenance and "worthless promises" from the park owner, Horner & Associates out of Edwardsville.
Brian Elliot has struggled for more than a year to have maintenance done to the property which his home sits on, as well as the foundation itself. He heard of Horner's plans to bring a manufactured home park to Eudora. Residents should be wary of Horner's intentions, Elliot said. Horner's actions are done only to benefit himself.
"He promises a lot of stuff but he never keeps his promises," Elliot said. "He'll promise you all kinds of things and once he's got you sucked in he'll take your money. I have a feeling that's what Eudora is going to get into."
As a Conestoga Park resident, Elliot's home resides on a lot rented from Horner & Associates. The company has declined to comment to The Eudora News.
A company secretary said it has no affiliation with the Conestoga Park. But park manager LaRetta Fitzwater stated otherwise.
"It's Horner & Associates out of Edwardsville," Fitzwater said.
Elliot's first problems came when he bought the home. After buying the home, they examined it for problems and everything appeared in tact. Within months to come they began noticing problems.
Small cosmetic problems.
The bathroom wall began separating.
The ceiling tiles started falling out.
After documenting the problems with a camera and sending a list of complaints to Horner, the mobile home was repaired a year after the original complaints were made. After the repairs Horner expressed to the couple his feelings about their situation.
"He told us 'That's what you get for $34,000. You shouldn't be expecting a mansion,'" Elliot said.
Not that $34,000 is a small amount, but Misty Elliot said others who have purchased more expensive homes appear to get quicker service.
"It's like they favor the people who have the money," she said.
It was then, Elliot said, they realized what battle lay before them. Elliot began noticed problems with the foundation of his home when Horner's construction put the groundwork in for his home. Now, the ground underneath is decaying away. Concrete pads their home balances on is cracking and settling at an excessive rate according to a structural engineer. After continual drainage problems and pools of water in his yard, Elliot hired a specialist to assess the situation. A report by Don Carter, structural engineer for Foundation Engineering Specialists L.L.C., tells of his findings.
"I see no way to avoid being continuously wet under your home and this produces a strong potential for both structural and health risks," the report said.
That report was in February of 1999. Elliot said after repeated requests to have the property fixed, which he rents from Horner & Associates, it has not been repaired.
"They promised us they'd be out here within two weeks and now it's going on a year and two months," Elliot said.
He waits for a solution.
Conestoga resident Emily Walmsley also knows the problem of waiting on management for long periods of time. Three years ago Walmsley purchased a mobile home and moved into the park. Her house a doublewide, it's complete with a fireplace, sculpted shag carpet and a jacuzzi-shaped bathtub. Plenty of living space for Walmsley, her daughter and two grandchildren. Walmsley said she too is tired of with poor maintenance from the owners of the park, Horner & Associates.
When Walmsley heard Horner was planning a manufactured park in Eudora, she encouraged anyone having a voice in the matter to say one just word on the matter.
"Tell him No," Walmsley said, "because I don't think he tells the truth about anything. No matter what has come up or what we've asked for, nothing has been taken care of. We get worthless promises."
Walmsley's home is also on a lot rented from the company. With each rain, she said, her lot becomes a pool of water infested with mosquitoes. The continuing rise and fall of the water level in her yard has left bare spots where grass once grew.
After months of being told by management the problem would be fixed with no avail, she took the matter into her own hands and purchased materials to fix the problem. A cost she shouldn't have to pay because she's renting the land, she said.
"We're tired of spending our money to fix up his park to make it look nice around our house," Walmsley said. "We're tired to not be appreciated enough to give us some dirt and get rid of our water problem."
Next door, Rebecca Angelo and her husband Phil has the same problem. Angelo lived in an older section of the park for 10 years before buying a bigger home, causing her to move to a newer side three years ago.
"We were really excited about coming over to the new side," she said. "But man, my yard is terrible. They just kind of moved us in and didn't landscape. When it rains, it's a lake."
Angelo runs a day care out of her home, and said she has been trying for six months through phone calls and letters to have her yard worked on. Often she's received no response or action.
"We didn't hear anything," she said.
The flooding of her yard wore away patches in her yard, which were not only unsightly, but also a violation of state laws concerning day cares. Angelo found out the hard way ground after being cited by the state that play areas within home day cares must have no uncovered play areas. Gravel, grass, pebbles are all acceptable, but no bare ground. Something she had too much of. Fortunately, the state heard her side of the story and has given her time to correct it without penalties.
After six months of asking the company to get the problem resolved, both Walmsley and Angelo received dirt on last Tuesday. But Walmsley has doubts about the quality of the new dirt and its landscaping.
"I said 'Oh my God, it's the same guy that did it the first time,'" Walmsley said. "If it wasn't right the first time, it not going to be right the second time."
Her home is still up for sale.
Roger Chance also purchased a home from Horner over a year ago and said his problems in dealing with Horner and his company has been tedious.
"I don't know what their problem is," Chance said. "I've got water under my trailer. They keep telling me it's not going hurt to be under there."
Even though he purchased a home and rents land from Horner, Chance said it makes no difference. He still has water problems. He still complains. And rarely is anything done. He understands the need for affordable housing, and said its offer can often be tempting to a town. But Chance cautions Eudora on letting Horner bring a park to Eudora.
"You don't want to let him in there, because once he's in he can do whatever he wants."
Elliot waits for a solution, growing weary of fighting the landlord for maintenance that appears will not be done. He said he's running out of money to fight Horner for repairs. If no change is seen soon the couple is planning on moving, possibly selling the home they purchased hoping to begin a family in.
"With the experience that I've had with this home, I think I'd take my losses and try to get a home and fix it up," Elliot said.
Elliot warns that if any promises are made to Eudorans about affordable housing and quality starter homes, beware: it's not what is may appear to be.
"It might look nice when he does do it, but when it comes down to fix a problem he'll sure give you the runaround."
Tom Horner Jr. and Horner & Associates refused to comment for this report.