Holcomb, Kan., Superintendent Darryl Pruter was offered the superintendent position in Eudora Friday night, just hours after he interviewed for the position.
On Monday he turned down the job.
The Eudora Board of Education will now turn to Plan B.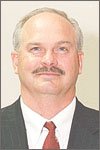 The school board will hold another special meeting Friday at 5:30 p.m. and it remains to be seen whether Dan Bloom's replacement will be named.
Pruter had been the choice. His work in Holcomb, located seven miles west of Garden City, drew the attention of the board.
Holcomb, like Eudora, is a growing district and is regarded by educators as one of the premier school districts in western Kansas.
He worked to get a $14.5 million bond issue passed by voters a year ago to build a new elementary school while renovating the three existing campuses in the district.
He's in the perfect place right now, he said in explaining why he turned down the Eudora position.
Eudora "would be a good spot to be if I wasn't in a great spot," he said Wednesday.
He said the Eudora school board offered him a package that was fair. Salary played no role in his decision.
Now the school board will turn its sights to the three remaining candidates, all of whom interviewed for the position last week.
Blue Valley Northwest principal Russell Kokoruda is the only candidate without prior experience as a superintendent.
Steve Mollach, superintendent of the North Lyon County district, and James Barrett, superintendent of the Scott County district are the other candidates.
The school board met in executive session for 30 minutes Tuesday night and came to the conclusion that no decisions would be made on that night.
"We're still waiting on a few answers," board member Carlie Abel said Tuesday. "That's it in a nutshell. We're still haggling over a few issues."