Cardinal Fever!
Laws Field and Eudora prepare for Saturday night state playoff battle
Basehor — Laws Field will play host to the Kansas Class 4A semifinal game against Hiawatha on Saturday night.
The Kansas State High School Activities Association had said Laws Field was inadequate to host a state playoff game. However, after Eudora High Principal Marty Kobza and activities director Larry McPherson recommended the addition of temporary bleachers and portable rest rooms, the activities association relented.
"The state has worked with Larry McPerson enough over the years to understand he will do a good job," Kobza said. "We don`t have all the accommodations we need and people need to understand that. They`ll have to be patient with us on Saturday night."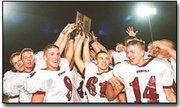 The Eudora football team continued its quest to reach the Kansas Class 4A title game in Emporia Nov. 18 with its 27-6 bi-district win at Basehor-Linwood Tuesday night.
Tuesday`s game at Basehor resembled more of a Cardinal home game than a road contest. An estimated 2,500 Eudora fans packed the visitor`s bleachers and hugged the fence just beyond the BLHS track.
This was ultimately a home game. A 30-minute drive was extremely minimal for fans who haven`t seen a Eudora team in the playoffs since 1983.
6Sports
will be airing the
EUDORA vs HIAWATHA playoff game
on Saturday evening November 4th at 10:30pm and 11:00am Sunday.
"Our crowd traveled great tonight," said Eudora coach Aaron Barnett.
Eudora fans even played a part in the outcome when Nick Verbenec had trouble calling cadences because of crowd noise, something that sometimes come into play at the college and professional levels, but never at the high school level.
"We had more people here than them," Barnett said. "They`re a no-huddle offense. They go at the line. I think they had trouble calling plays up on the line because of our crowd. They had to switch what they have been doing all year."