Destiny may be on the Cardinals` side
Call it Euphoria High. It`s completely understandable, when you consider that the Eudora Cardinals have never made it this far in a football season.
Never.
Since Kansas went to its current playoff system in 1969, the Cardinals have been to the state playoffs a grand total of two times.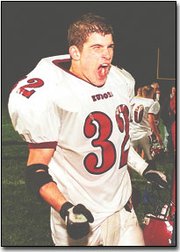 Both times, they lost.
Obviously, the third time was the charm.
Tuesday`s Halloween night 27-6 victory over host Basehor-Linwood registered a high-water mark for a program that has clearly done little to distinguish itself over the last four decades.
You can understand the hoopla -- the Euphoria, if you will.
You begin to realize why an estimated 2,500 put off Halloween for a night to make the trip to nearby Basehor. They watched from behind a fence and stormed the field when the final seconds ticked off the clock.
By the way, we apologize to any non-football fans (all three of you) who might have had their Halloween plans dashed by these pesky Cardinals. The good news is even if the Cardinals extend their season to the state title game, there is no need for us to suggest -- mind you, we merely suggest around here -- postponing Thanksgiving.
But you get the feeling many fans in this town would have no trouble putting off their Turkey Day plans if it ever came to that. Football in these parts has become an obsession.
The Cardinals have now won eight straight games and move into Saturday`s game with Hiawatha poised to move onto the next round. Hiawatha coming to town
See Destiny, Page 2B
in itself might lead some to throw out the "D" word when speaking of the Cardinals.
Destiny.
It may be this team`s destiny to be in Emporia on the Saturday before Thanksgiving.
It may be this team`s destiny to win a state Kansas Class 4A crown.
I am certain that coach Aaron Barnett`s heart just skipped a beat after reading the previous sentence. You see, football coaches live a one-game-at-a-time, one play-at-a-time, one-breath-at-a-time sort of existence.
Looking ahead three games contradicts that way of life.
It makes football coaches nervous.
Looking too far ahead can cause one to stumble on the next step, which is what Barnett is trying to prevent. Unfortunately, it`s not my job to stay focused and live in the now. Looking to the future is more fun -- especially when you consider how things appear to be shaking out.
When you consider that Hiawatha is Saturday`s opponent instead of, say, Topeka-Hayden or Holton, you have to believe the stars are in proper alignment for the Cardinals and anyone riding this bandwagon, which is quickly filling up.
One week ago, Topeka-Hayden was unbeaten and the state`s top-ranked Class 4A school. However, a trip to Holton later, the Wildcats were soundly thrashed and were forced to watch the state playoffs.
So Holton -- another unbeaten team -- moved into the role of favorite, which is understandable, right? You would think, considering it was traveling to Hiawatha to play a team it had beaten by four touchdowns earlier in the year.
Eudora High officials expected to be in Holton on Saturday, but they were forced to cancel their travel arrangements and scramble for a facility that met Kansas State High School Activities Association standards Wednesday morning when they found out Holton, too, was knocked out of the playoffs.
So the table is set pretty nicely for the Cardinals. Hiawatha has lost a couple of games this season and must now come to Laws Field, where the Cardinals won all four games they played by a combined score of 131-62.
KSHSAA had originally said Laws Field was inadequate to host a state playoff game, but the addition of some temporary bleachers and some portable rest rooms caused the activities association to relent and allow Eudora to host Saturday`s game.
If 2,500 people from Eudora made the trip to Basehor on Tuesday, how many do you suppose might make their way to Laws Field on Saturday?
Euphoria, indeed.
More like this story