Two Eudora businessmen getting a taste of owning their own business are discovering what it takes to have the right stuff with Eudora economics.
Aaron Boden and Steve Bates have recently taken ownership of local pizza restaurants in Eudora. Boden is now owner of Gambino`s Pizza and Bates is owner of Simple Simon`s Pizza.
After managing Gambino`s for nearly two years, the offer was extended to Boden to purchase the franchise and take the helm. Boden said owning his own business is something he has wanted to do for some time.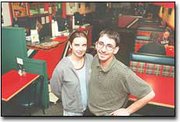 "Right out of high school, I realized I wanted to be a business owner," Boden said.
He began working for Gambino`s in Topeka when he was 16. He began as a cook, then moved on to delivery for six years. After becoming manager during the last of his delivery years, he decided he wanted to own his own store.
"Like any person, I knew if I stayed where I was working for someone else, I knew I wouldn`t get anywhere," Boden said.
Bates had similar thoughts about getting into business ownership. He began working for Dairy Queen at age 16 in Paola as a manager. While working there, Bates had hopes for owning the business as well.
"I was going to buy the Dairy Queen. That was my goal all along," Bates said. "But it wasn`t going to be up for sale for another 10 years."
With twists of good fortune for both 23-year-olds, the two were able to become employers instead of employees.
Getting started
The opportunity came for Bates shortly after Simple Simon`s opened earlier this year. After some problems in the hierarchy of the franchise, Bates said, the owners decided to get out. Their desire to sell provided Bates the perfect opportunity to achieve his dream.
"They basically gave me one heck of a chance to do what I`ve always wanted to do," Bates said, "and I`ll do my best to uphold it."
Bates said some of his financing came from investments made while he was younger. He became interested in mutual funds and began preparing for his future. Ultimately, his preparation would assist him to become a business owner.
"My old bosses, my mentors, they taught me to invest when I was 18," Bates said.
The previous owners still retain some ownership, with Bates leasing some of the equipment from them. He has applied for a loan to purchase the rest of the equipment and upon approval the percentage he pays for the franchise will lower. Until then, Bates said, he`ll continue to pour his heart into his work.
Boden took another route when purchasing Gambino`s. The restaurant was formerly in the building now owned by Simple Simon`s, moving to its current location in January 1999.
Similar to Bates, the owner of Gambino`s offered Boden the change to purchase the business. Working in his favor, Boden was able to purchase it at a price lower than the typical beginner. Typically, a new owner would have to pay a franchise fee of $10,000 to start a Gambino`s; Boden got by with only having to pay a $500 rollover fee since the business was already established.
"He asked me about the beginning of September if I wanted to buy it," Boden said. "It was either I buy it or they were going to sell to somebody else at a much higher price."
However, Boden ran into a problem with getting a loan to purchase the equipment, food and take over the rent for the building. To his aid, Boden`s parents came to his aid. With their house in Topeka paid off, they put up their house as collateral, allowing for him to get a loan.
"My dad`s always been a firm believer in owning your own business an he`s always wanted me to," Boden said. "But, that was the only way I could do it."
Despite managing and now owning businesses, neither of the two has graduated with a college or university degree. Bates has taken some classes while he worked toward a criminal justice degree. Though he plans on finishing his study, his plans are on hold at the moment.
"I`m not the type of guy to go out and say ou need to get a degree with you`re 22,`" Bates said. "If you can work with people and have common sense in working with people, you can make it."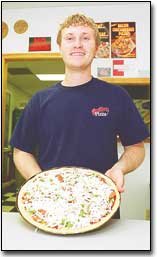 Boden said if he hadn`t been able to buy the business, he would have gone to culinary school to feed his love for working with food. Upon graduating high school, the opportunity to go on to higher education passed because of his dedication to the job.
"I think a lot of reasons I didn`t go to school is I found myself wrapped up in this business," Boden said. "If I did go to school, I couldn`t manage (the store)."
Lonely at the top
Since their recent takeovers, the business owners are learning about the downfalls of owning their own business.
"I`ve had the worst week of my life," Bates said on Tuesday. "I had three cars last week and zero cars today."
After a few mechanical problems, some from accidents and some from acts of God, Bates was without delivery cars earlier this week. Despite the lack of transportation, he said, many of his customers have been understand to this situation.
"That was a good sign for me, I must be doing something right," Bates said.
Aside from mechanical problems, Bates also puts in a good amount of time at work. Bates said he believes if he`s not at the store, something is likely to go wrong.
"If you`re in management, you`re going to work 60 to 80 hours a week," he said. "I`ve done that since I was 16."
Boden knows the life.
"I work when I want -- which I`d say is about 60 to 70 hours a week," he said.
Boden is also faced with another chore. His restaurant sponsors the Gambino`s Reading Achievement Program, which tempts young students into reading by giving pizza as a reward. The program is for students grades preschool through sixth grade. As students read a certain number of books over a six-month period, they turn in their results for a free pizza per month. The end result -- a lot of free pizzas cooked for free.
"By the time the six months are up, I`ll probably have given away 1,000 pizzas free," Boden said.
Staying alive in Eudora
Eudora Chamber of Commerce president Karen Rowland remembers when a previous business was in Gambino`s current location. The ice cream shop that later turned sandwich shop, Banana Boat, lasted only two years before going out of business.
"But it just wasn`t supported by the community; it just didn`t hold," Rowland said.
However, times are changing in Eudora. As the city expands, local businesses will continue to grow. As long as local businesses maintain good service and good product, Rowland, they`ll stand the test.
"I think in the restaurant business, affordability is important, advertising is important and with any business, service," Rowland said. "Service is the main ingredient in business anymore."
However, Eudora businesses will have their competition -- Lawrence.
"I think it`s so close that people say et`s just run over to Lawrence and eat, there`s more selection,`" Rowland said.
But Bates sees things a little differently. His biggest success is on Tuesday and Wednesday evenings and he said his store is "packed" with customers taking advantage of the buffet. He also has delivery that extends to five miles outside Eudora, which he thinks helps add to his sales.
"People told me this was a bedroom community," he said. ou can`t run a business here.` I think that`s been proven wrong."
Having two pizza restaurants in town has also provided for some competition, which can lead to the customer`s advantage. Gambino`s now offers calzones and has added a lunch time delivery from 11 a.m. to 1:30 p.m.
After all the headaches, competition, hard hours and carrying the weight of responsibility for a business, both agree -- it`s worth it.
"The luxury of working when I want is great. I make my own rules," Boden said.
Bates agreed that having control over your own business is worth all the trials that accompany it.
"Working for yourself is the No. 1 benefit," Bates said. "The only one I answer to now is the customers and the government. I`d rather work for them than anyone else."