Around Eudora, the symbol of its schools can be seen everywhere. On license plates, clothing, buildings inside and out and even one water tower, the cardinal head is a symbol of Eudora`s school pride. And with all of its prominence, one man holds the right to its design.
Eudora High art teacher Gary Hinman was asked to redesign the cardinal head in 1999 by members of the EHS coaching staff. After EHS head football coach Aaron Barnett told Hinman he liked the look of K-State`s wildcat logo, Hinman now had an idea of how to draw the cardinal head.
After finding a photo on the cover of National Wildlife magazine, Hinman went to work in drawing the right head suitable for a new look. However, getting there was no easy process. Hinman drew approximately 20 different drawings, taking 15 to 30 minutes each.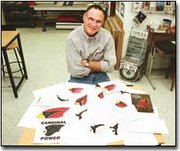 "That`s one of the things people don`t realize," Hinman said about drawing. "They go, ill you draw me a cardinal?` Then you just sit down and say ere it is.` It`s a lot more involved than that."
Hinman looked at several pictures of real cardinals then examined other mascots from across the country. He decided to make some adaptations from his magazine cover cardinal to spice it up, making alterations to the beak. He added more of a "hook" to its beak to give it a talonesque look.
"I threw that in there," Hinman said. "I chose to do that to give it a little meaner look. I exaggerated that part."
He also decided to make the bird`s crest on his head lay down rather than stand erect making the head appear sleeker than its predecessor.
"I think the more pointy angles give a more aggressive look," Hinman said.
The end result was one that can be seen in many places in support of the Cardinals, which included midfield during last week`s playoff game at Law`s Field. Variations of the cardinal head can also be found in the student halls at EHS.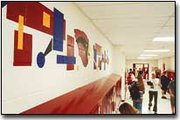 Hinman said he gives permission to the school to use the logo, providing it doesn`t make "too much money in the process." He cites one agreement with a rock painter in Topeka who wanted to use his cardinal. Hinman agreed, as long as not more than $100,000 was made annually. To protect his image, the drawing was copyrighted through the Library of Congress.
"I didn`t really do it as a money-making thing," Hinman said. "It was more of a safety precaution. Maybe if I was more of an entrepreneur, there are places I could send it off to and make money.
"I just don`t have that mindset."