State program to give
WWII

vets honorary diplomas
Russell Haun believes active remembrance of military veterans is waning. As the Kansas Disabled American Veterans commander, he has seen interest dwindle in recent years in schools and communities.
But a new program implemented by the state has Haun hopeful that vets are not forgotten -- and get the respect they deserve.
The Kansas Commission on Veterans` Affairs has begun a new program, which awards qualifying veterans with honorary high school diplomas. World War II veterans honorably discharged who served between September 16, 1940 and December 31, 1946 without graduating can receive the diploma. Diplomas can be awarded posthumously as well.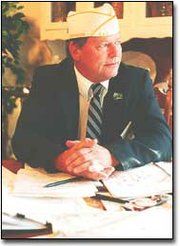 Haun said he believes the program is a great way to show veterans they have not been forgotten.
"Now they`re just saying, ey, we`re trying to honor the veterans and they`re dying off,`" Haun said of the state program. "It`s just a way of saying hank you for your sacrifices.`
"You get some of these guys that are 75-years-old and didn`t get to graduate, it would be great not only for them but their family," Haun said.
Veterans who obtained their diploma but entered service before being able to participate in graduation ceremonies are also eligible for this program. Eudora High principal Marty Kobza said the school would work with the state so recipients could be part of commencement.
"We`ll try to do something special as part of the ceremony," Kobza said. "We may bring in a military person as a keynote speaker."
To apply for the program, applicants must have a copy of honorable discharge papers, which are available through the local county registrar`s office. Papers are also available through the Kansas military archive office in Topeka. The Kansas Commission on Veterans` Affairs office will notify local schools having veterans in the area that will participate.
This is the first year for the program, but it will continue as long as needed.
"Actually, this proclamation will come out every year," Haun said.
Anyone wanting more information on the Operation Recognition program may write the Kansas Commission on Veterans` Affairs, 700 SW Jackson, Ste. 701, Topeka KS 66603 or call the office at (785) 296-3976. Interested persons may also call Haun at 542-5155.