A new attitude
Freeland looks to turn things around with hard work, discipline
With a new coach who hates to lose and a team full of experienced returners ready to win, the season looks promising for the Eudora girls basketball team.
"I'm very, very excited. I'm excited about the people I'm working with," said coach Gretchen Freeland. "They try hard, they work hard. As a coach you really can't ask for anything more than that."
And hard work is just what the doctor ordered to repair the damage of last year's 2-19 record. The experienced team will be put to the test in the Cardinals' first match-up of the season at McLouth High, which is just a week away on Friday Dec. 1.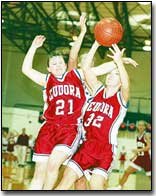 "We can only go up from here," said senior point guard Melanie Smith. "I'm a winning kind of person, so to me winning measures it. I think that's a good attitude to have because most people don't have fun when you lose."
Freeland is more than ready to throw some wins on the board too and will be adding to the team's defensive arsenal to do just that. Her mission: to have the best defensive team in the state.
"Our main focus is going to be defense. I want to show several different looks," Freeland said. "I think we can score, but we have got to be better on defense."
And that move will be led by junior Brandi Abel, who, at 5-1, Freeland said was one of the best rebounders on the team.
"She's one of the smaller people on the team, but she was a consistent rebounder for us," Freeland said. "She has a nose for the ball. She's going to get the job done."
And Abel is more than ready to step in as the defensive leader.
"I'm short, but I try hard," she said. "I am there to try to make things happen on defense."
Freeland said many of the players returning from last season gained varsity experience and would be complemented by a talented group of incoming freshmen, some of whom should step into the varsity rotation.
"We have a good group of freshmen coming in. Some should be able to help us out on the varsity squad," Freeland said. "And we got to play a lot of underclassmen last season."
Freeland said she would rely on Smith, Abel and senior Jessica Bryant to provide the leadership the younger players will need.
"Our upperclassmen have shown a lot of leadership. They're working hard at everything they do in practice," Freeland said. "I'm depending on them for
See Cardinals, Page 2B
their work ethic and to encourage younger players to develop the same attitude."
And Smith, who Freeland hopes to utilize as both a point guard and shooter, said she was ready to step up as one of the team's overall leader.
"One of my personal goals this season is to be a main leader," Smith said. "I want to have a lot of team unity."
Freeland will also look to Bryant, who excelled from the outside at the end of last season, to add some points to the board.
"She really started coming around as a shooter at the end of last season," Freeland said. "We really need her to step up and fill the role as a scorer."
Adding to the returning group of players comes a familiar coaching staff -- even though this is Freeland's first year as the head coach.
Freeland, who took over for Don Grosdidier this season, was an assistant for three years, and is rejoined by assistants Erin Barnett and Kara Kimberlin.
"Even though we lost last year's head coach, it's going to be real consistent," Freeland said. "They know us, they know about us."
But there will be some new elements added to the mix. A new zone offense will be in place to counter the McLouth zone defense that Freeland is expecting, and there will be a mix of player to player, zone and trapping defenses in the arsenal.
Once the McLouth game is past, the Cards have to rebound to play in the Eudora High School Tournament on Dec. 4, 5 and 7, which will feature both conference and non-conference teams, Freeland said.
"It's good competition right off the bat," she said.
So the next week of practice will be a series of fundamentals and new plays to prepare the Cards for the kick-off of what appears to be a season of high hopes. Though it is too early to count out the playoffs, some players see simple improvements as a sign of success.
"Everyone's goal is to go to state," Abel said. "But I just want us to improve."
Though Smith wants nothing more than to end her senior year with a winning season, she knows it won't come without extra effort.
"I'd like to win, but it really depends on how hard you play too," Smith said. "You know when you do your best."
More like this story