This Thanksgiving will be both bitter and sweet for Shirley Douglass and her family. After months of uncertainty regarding the whereabouts of her son, she now knows the truth. However, the reality of the situation was something she never expected.
The last time Douglass heard from her son was Mother's Day, 1999. Her son, Stephen, worked with England trucking company unloading the truck at each stop. The driver of the truck called Douglass from Oklahoma City to say her son was well and wished her a happy Mother's Day.
It was the last time she heard from him.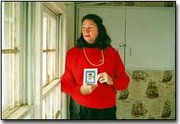 It was not uncommon for months at a time to pass before Douglass heard anything from her son. Living on the road, her son contacted Douglass intermittently. Holidays passed without hearing from her son. After Mother's Day rolled around this year, Douglass began to suspect something was wrong.
"The way it came on our end, we just realized he was missing," Douglass said. "When Thanksgiving and Christmas of 1999 rolled around, it was just unlike him to not contact us. Particularly Mother's Day is a time when he would always send me a card or let me know."
The family called his work, only to discover he was reported missing. They sprung into action. Eventually, Douglass' daughter Rachel hired a lawyer to locate her lost brother.
On Sept. 7, they learned the answer to what happened to their missing family member. He was injured on May 3, 1999 during an Oklahoma City tornado. He died May 5, 1999.
"He was unidentifiable for quite awhile," Douglass said. "It's been quite of a real scattered thing."
Discovering her son was dead wasn't easy to handle, Douglass said. But, the peace of mind that came with knowing the truth was settling to the family.
"I can sure feel now for people who have loved ones who are missing," Douglass said. "There's no closure for those people."
Despite the tragedy, there is some joy in the situation.
Douglass and her husband, Lee, have often had trouble gathering their children together for the holidays. This Thanksgiving, the remaining six children and other family members will be gathering for a memorial service. One daughter, who Douglass hasn't seen in two years, will be flying in from Nepal for the service.
"We have such distances to come so we did that so they'd have time to get here," Douglass said. "It will make it possible for us to be together."
And though the family has suffered a great loss, Douglass said her faith in God is what has kept her strong. Another son, John, died in 1974. Douglass said her knowledge that both boys were strong in their faith makes it easier for her. The tragedy has turned to triumph on this Thanksgiving.
"I guess the reason we can give thanks is we know he was a Christian," Douglass said. "Yes, we miss him, but we're thankful he's with the Lord."