Douglas County Senior Services searches for Eudora volunteers
The Douglas County Senior Services Center is in desperate need of workers for Eudora. Hoping to find willing volunteers like two local volunteers, the center is extending the call to any who'll heed it.
Senior meals manager for the center Kim Whitten said the center is always looking for volunteers, but Eudora is especially hurting on Mondays. Douglas County Senior Services supplies qualifying seniors with meals at home and checks up on their well being in the process.
"We've serviced across the county and serve 250 meals a day," Whitten said. "We have one paid staff person in one of those sites and all of our delivery help is done with volunteer help. We need volunteers everywhere all the time."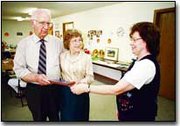 Whitten said although the work is done entirely without pay, many workers claim they receive benefits from helping distribute meals.
"Many of our volunteers say it's the most rewarding thing they've ever done," Whitten said. "They do develop relationships with (the seniors). Not only are they giving something to the people they deliver to, they're also getting something in return."
Two local volunteers that were honored for 10 years of service were W.C. and Dorene Carter. The couple began working for Douglas County Senior Services after Dorene Carter was on the receiving end of the meal program.
"She had ovarian cancer," W.C. Carter said. "During the time she was taking chemo, they were delivering meals to us. She thought volunteering was a good way to repay their generosity and helping us out, that was the way to do it."
In their 10 years, the couple was absent only once from their regular deliveries. Retiring in October, Dorene Carter agreed with Whitten the benefits of delivering meals to seniors was greater than money.
"We made a lot of friends," she said. "We really enjoyed doing it. I made so many friends, I really became attached to them."
The couple's efforts didn't go unnoticed. They were awarded a plaque for their service. However, Dorene Carter said the monetary reward wasn't the reason behind their service. Now she hopes other people will feel compelled to volunteer and give back to the community.
"We just felt compelled to do this," she said. "It was something that needed to be done and we did it."
Anyone wanting more information on the Douglas County Senior Services mealsite may call Kim Whitten at 842-0543.