The touch of a nurse's hand
When Cathleen Reitz began nursing school, the former Eudora resident felt certain she would utilize her skills while serving a higher power. Recently she was able to see her vision become a reality.
Reitz spent August working in Abergourou, Cote d'Ivoire, Africa. Working for a pediatric clinic, she treated children for malaria, malnutrition and skin infections. After hearing about the mission trip through her Olathe church, she decided to take on the call.
"I went because I've been a missions-minded person for some time," Reitz said. "I went to nursing school with the objective of doing missions abroad."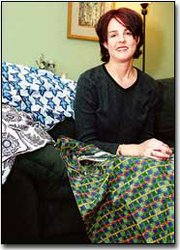 The trip was sponsored through a Christian organization whose purpose was to spread the gospel of the Bible while working through the medical field. Her nursing skills in order, Reitz spent 10 hours per day for four day in Indianapolis, Ind. to prepare with 41 others. She also prepared her body for the trip by taking vaccines and medications. Reitz said her main source of strength was her faith during the trip.
"I had six vaccines before I left and took anti-malaria medicine for 10 weeks," Reitz said. "I know I took care of some children that had AIDS, but I figured God wanted me there and he's protected me."
While working in Africa, Reitz said, she began to appreciate the America way of life. She said it's easy to become complacent with what you have, not appreciating that others are not as fortunate.
"I gained an extreme appreciation for the lifestyle we have here and how blessed we are here," she said. "We are so fortunate where we live. We have clean water and clean streets."
Reitz recalled two native children who each received empty jars with lids on them. She watched how excited they were to receive the jars, playing and ecstatic to have something given to them.
"People over here would not comprehend that unless you could see how excited they were to get something we would think of as trash," she said.
Most importantly, she said, there were the children who illnesses made her job the toughest.
"There were some really, really sad cases of children I didn't think would live very long," Reitz said. "I would love to bring them here and take care of them but it's just not plausible."