Is it in the Cards?
Young, athletic squad carries the hopes of Eudora into hoops season
Eudora boys basketball coach Chad Eshbaugh is like a kid at Christmastime right now. He wants to open the package and see what he`s got.
Eshbaugh will get that chance Friday night when the Cards begin the new season at McLouth.
If last year is any indication, it should be a good game to start out the new season. The Cardinals split with McLouth last season, including an exciting double-overtime victory.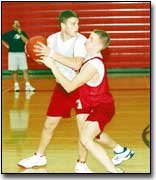 "They are usually a very capable team," Eshbaugh said.
Whatever the outcome might be, Eshbaugh expects Eudora to accomplish the three Es: play Effectively with Enthusiasm and Execution.
Win or lose, he expects those elements in every game.
"We`ll just have to focus, come out with a lot of intensity and keep the game under control," said Matt Fisher, Eudora`s top returning player, whose season is currently in question because of a knee injury he suffered recently at practice.
"I have no clue if I`ll be able to play Friday right now," Fisher said. "I`m looking to play, though."
Fisher had the knee examined by a doctor Tuesday.
The Cardinals return just three letter winners, but Eshbaugh doesn`t see this as a disadvantage. Despite the inexperience of his team, Eshbaugh has high expectations.
"We should be fairly quick this season," Eshbaugh said. "We have decent depth in a lot of positions."
Young and talented is a combination that eventually leads to bigger things.
"We`re going to be young, which could be bad and could be good," Fisher said. "People will just have to get out there and step up. We are in good condition and should be able to outrun our opponents and push the ball up the court."
Fisher, a 6-2 junior, averaged about seven points, four rebounds and four assists per game last year. This is his third year as a varsity starter. Obviously, his presence is important, Eshbaugh said.
"I expect big things if he can play," Eshbaugh said.
Eshbaugh also has high hopes for the two other returners -- Wes Hinman and Zac Tyler.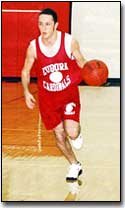 Other key players should be John Powers, Peter Hickman and Sean Mullis.
"Hickman is busting his tail day in and day out," Eshbaugh said.
Eudora has already lost two key players to injury. Blane Christenson and Tyler Jackson each tore knee ligaments during football and are out for the basketball season.
Overcoming those injuries is a key to success this season. Last year, the Cardinals got off to a 12-4 start and were ranked among the top 10 Class 4A teams in the state, only to lose their final five games of the season.
"This year we need to pick up the slack and win some more of the easy games," the coach said. "We have a lot of guys that can play multiple positions," he said. "Having a lot of 'tweeners can be a good thing with a lot of different looks at the floor."
Eshbaugh said his players have shown a lot of competitiveness in practice thus far and, along with Fisher, claims that height will be a strategic challenge for the Cardinals this season.
"We need to find a way to overcome it," Eshbaugh said.
Eshbaugh said the team needs to be able to shoot from the perimeter better and become more consistent than it has in the last few years.
"We are undersized and need to nail it down to play tight," he said.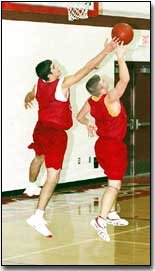 So far, things are looking positive.
"We`re looking pretty good at practice," Powers said. "We`re practicing hard and starting to put things together. We hustle a lot and that is going to have to be one of our strengths all year. We`ll probably play a lot of teams with taller players and will have to fight through that."
Fighting that still could be a little rigorous.
"Our league is a tough league," Eshbaugh said. "Just about every game we play will be challenging."
Baldwin will most likely be the biggest competition for the Cardinals.
Baldwin finished second at the Kansas Class 4A tournament last year and is returning the majority of its starters.
After McLouth on Friday night, the Cardinals will play in the Gardner-Edgerton Invitational next week.
"I am optimistic about the season," Eshbaugh said. "We`ll just have to see what happens Friday night."