Mayor gets fund-raising under way
Though no evergreens are associated with the Mayor`s Christmas Tree Fund, it does branch out to Eudora`s needy and will be once again providing food this holiday season.
Stewart began distributing cans at Eudora businesses last week to continue raising money for the fund. The fund, managed by the mayor and city clerk, is built upon donations received throughout the year. To date, the fund has $5,000.
In past years, food baskets consisting of hams, produce and other canned goods were purchased and given to needy families in Eudora. This year Stewart is trying something new by having food vouchers for C&S Market. Only food items can be purchased with the voucher. Tobacco and alcohol is excluded.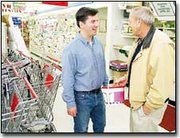 "That way the city boys don`t have to box them," Stewart said. "I think the people will appreciate it more if they have the voucher."
Last year the fund purchased 54 food baskets for Eudora residents. Students who receive discount lunches are submitted for receiving the vouchers and the city office will take applications.
Aside from vouchers, the fund will provide gift bags for students at Notthingham Elementary and Eudora West. The bags will have candy, fruit, crayons and a coloring book.
"We`re going to try and do 700 bags over at the schools," Stewart said.
Stewart said he is looking into other options to add to next year`s activities.
"I think next year I`ll try to have a dinner if we can get enough volunteers to help," he said.