Eudora's history on display
Eudora is a town rich with history, dating back to its beginning in 1857 when it was founded by German immigrants. Over the years, family after family has contributed to making this town what it is today a growing community.
At EudoraFest on Saturday, community members will be able to learn about the history of Eudora and its families. The Eudora Area Historical Society (EAHS) will help participants learn a little history and get started on mapping family trees.
EAHS secretary, historian and genealogist Fern Long will be among those working this year with the group. Long has helped interested parties research family trees and trace back roots.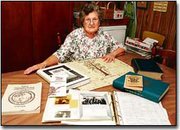 Long said there are many ways to research family history, but recent trends utilize technology to get the job done.
"The people now that's hunting their genealogies are going to computers," she said. "They've surely helped me a lot."
Long has been heavily involved with researching her own family history, which helped her learn to effectively research histories. She has written the National Archives, researched old newspapers, action notices and census records to get information. She has also written the Mormon genealogical library to obtain that hard-to-find information. One form she is especially proud of is making charts of family trees.
Long said the jewel in the rough of research is discovering tidbits of information about ancestors one might not have known.
"I even have one there that goes back to 15 generations," Long said. "In my paternal grandmother's family, I have it going back to England where they were burned at the stake for their Christian beliefs."
This year, the EAHS will hold a presentation of the history of Douglas County families, have local family history sharing and an information booth on how to get started in genealogy. A family tree display will also be available of EAHS members and their tress, as well as a musical performance and pies.
Anyone interested in the EAHS or about history day at EudoraFest can call 542-2606.
More like this story