A conquered Frontier
Cardinals beat Baldwin, take league crown
How sweet it is.
A season of hard work has finally paid off as the Cardinals head into district play co-champions of the Frontier League for the first time since 1972.
After upsetting rival Baldwin High 41-21 in last Friday night's Homecoming game, Eudora claimed half of the throne, which is shared by Paola High a team the Cards beat in overtime in the season opener.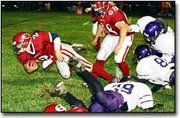 "It's a huge step for the program. We don't talk in terms of winning seasons anymore," said coach Aaron Barnett. "We're taking it to a new level. Every year I try to raise the bar. This is another rung on the ladder we're climbing up."
But with the league title under their belts, Barnett sees the season starting anew this week for the Cards as they set their sights on the district title.
"We're 0 and 0," Barnett said. "We have district play now, three games, and we'll see if we can take another step."
The next step up the ladder is to send the special teams back to the basics.
"We're going to work on special teams and we're going back to fundamentals this week," Barnett said. "Our kickoff team is still not where it needs to be for us to win a district title."
Barnett hopes to fill some of the gaps that put the Cards in an early hole a hole Baldwin dug on the opening kick when junior Tyler Inzer slipped through the kickoff coverage for an 82-yard touchdown.
But it didn't end there. The special teams stayed cold on their own return, turning the ball over and setting up an 18 yard pass play that left the Cards down 14-0.
Another step the Cards will take this week is getting healthy.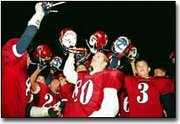 And that means getting senior defensive lineman Brent Whitten back in the lineup after he left Friday night's game with a sprained ankle. Whitten, who caused a Baldwin fumble in the first quarter that turned the momentum in the Cards' favor, also missed the first two games of the season with a strained MCL.
All this is in preparation for Friday night's match-up against the DeSoto Wildcats, who are 0-6 heading into district play after falling last week to Immaculata High.
But Barnett said this week's practice was focused on the Cardinals, rather than their opponent.
"If we keep playing like we can, our style of football, we are going to be just fine," Barnett said. "We've just got to keep up our intensity and our focus."
And the Cardinal style of football relies heavily on a fierce defense that has given up an average of only 17 points per game, and a powerful offensive ground game that has posted an average of 25 points per game.
Barnett added that the hard work that has carried the Cardinals this far was what would propel them through the district.
"Discipline's something you have to do all the time," Barnett said. "The work ethic is really what I am proud of these kids for."