Cardinals struggle at Frontier meet; Regionals Saturday
Coach Paul Boone has one expectation for the remainder of this cross country season: He expects his Eudora Cardinals to compete.
But competition is one of those intangibles that can't be gauged with times and standings. The Cardinals ran hard at last Thursday's Frontier League meet, but could muster no better than a sixth-place finish in the girls' competition and an eighth-place finish by the boys team.
With the regional meet Saturday in Ottawa, the goal is the same: Run hard and hope for the best.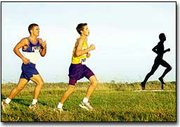 "We plan to approach this meet in the same way," Boone said. "As long as we do our best and run within the race we will end with a sense of satisfaction."
At the Frontier League meet, held at Rim Rock Farm in Lawrence, senior Sean Mullis led the Cardinals with a 27th-place finish. James Barr was 40th, while Daniel Chrislip and Ian Mater were 56th and 57th, respectively. Jeff Jones placed 60th.
Estelle Montgomery led the girls team by coming in 16th place, two places ahead of Jill Abel. Sarah Katzfey was 34th, while Carolyn Jones and Rhiannon Tiner finished 48th and 49th, respectively.
"Rim Rock is a tough and hilly course," Boone says "We did what we set out to do."