Strong's Farm looks to scare, entertain this Halloween
October could be a little scarier this year with the twists, turns and terrors at Strong's Family Farm Haunted Maze.
Owner Richard Strong said he hopes to fill customers with fright this year with his haunted maze. Participants travel a four-acre labyrinth covering more than a mile. Actors dressed in Halloween garb will try to scare participants as they travel the maze.
"We've got a couple of them like Mr. Chainsaw or a bat that's kind of huge," Strong said. "That's two characters that we're hoping people walk away talking about."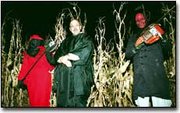 Adding to the scare, participants can join in a scavenger hunt to search for five hidden flags. As participants focus on the hunt, Strong said, their minds would be off the actors lying in wait and adding to the scare.
The biggest factor in the scare, he said, is the construction of the maze.
"It's just disorientating and it's part of going into any maze you get lost," Strong said.
In addition to the maze, Strong's Farm will have palm, tarot card readers and mimes for additional entertainment. Snipe hunts will also be available for fearless night hunters.
"It's basic Halloween-type entertainment," Strong said.
Aside from scares, Strong also sells autumn decorations. Hay bales and corn stalks can be purchased along with the Halloween staple, pumpkins. Strong said this summer's heat was damaging to his crops, which made constructing the maze to its standard more difficult.
"The heat aged my corn crop considerably faster," he said. "That corn should be taller and have green on it. The heat played a big part in our profitability."
However, he managed to pull through. He donated 260 pumpkins to The Works program, which helps women receiving welfare to work toward finding jobs and creating a solid work foundation. He also donated 200 pumpkins to ECKAN, a Douglas County agency that gives food to qualifying participants.
Open since Sept. 21, Strong said business has been slow from not being as established as other area haunted spectacles. He hopes to get the word out about the maze and "scare up some business."
Located west of the intersection of North 1900 and North 1500 roads, Strong's maze is open from dusk to midnight Fridays and Saturdays, dusk to 10 p.m. Sunday. Admission is $8 for adults, $6 for students with valid ID and $4 for children. The pumpkin patch is open from 10 a.m. to dusk, daily. Customers will receive $2 off admission for attending the maze during the day or by bringing a non-perishable food item a night. The event is alcohol free.