'

I'm sure I would be dead'
When Suess Lounsbury made her way to Lawrence last week, it was a routine trip for her. She loaded up her two kids and headed off to the store, searching for pantyhose and other necessary items.
Her way home to Eudora was also a routine drive. Take the back way around 31st Street, put on the cruise control so not to speed and head home.
Upon reaching the intersection at 31st and Louisiana, she quickly found that a routine trip to the store can be life threatening and tragedy can be spared with seat belts.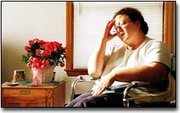 Lounsbury was driving a 1997 Dodge Caravan when a 1989 Hyundai driven by Willie J. Clemens Jr. hit her. Lounsbury said while some may say in incidents like hers the time seems to stand still, this time it didn't.
"I was like, 'he's going to hit us!'" Lounsbury said. "I told my girls to hold on and I loved them.
"I could hear his tires squeal."
Daughter Shea said she could see the car coming as well.
"I closed my eyes because I knew he was going to hit us," said the 8-year-old.
Seconds later impact. Clemens was pronounced dead at Lawrence Memorial Hospital. When authorities and help arrived they began assessing the situation and giving aid to the victims.
"What most of them said when they were taking statements was 'obviously, you had your seatbelts on,'" she recalled.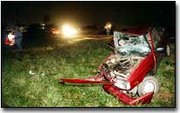 For Lounsbury and her children, Donna, 13, and Shea, the belts helped save their lives. However, Lounsbury ended up with more than a seat belt burn. After impact, she knew instantly something was wrong. Two leg bones near her ankle were broken.
Remaining calm, she asked officers on the scene to put her daughters in the ambulance before seeing her try to get out of the vehicle. She new there would be pain and knew that she would scream with it.
"And I did yell," she said.
Though she had to endure some pain and is out of commission for awhile, it's better than the alternative, she said.
"I'm sure I would be dead or seriously injured," she said. "You can't control the other eight bazillion nutcases that are going to run into you."
Lounsbury said the idea of always wearing a seatbelt was grained into her at 19. She worked for a sheriff's department doing general office work, then one day a gruff officer gave her advice that would save her life. Advice to always buckle up. Now, she said, she's a fanatic about seatbelts, before and especially after the wreck. It was determined at the scene that Clemens was not wearing his seat belt.
"The officer told me, 'I've never had to unbuckle a dead body,'" she said.
That remains her motto and will continue to be for a long, long time.
"Don't start the car until the seatbelts are on," she said.