Krutz hopes aerial attack not a mere passing fancy
On a team led by rushing, receivers can get lost downfield in the shuffle.
But last Friday night in the Cardinals' 27-6 win over Mill Valley High, the Eudora receivers, led by senior tight end Steve Krutz, stepped into the spotlight in the first half.
The Jaguars left the receivers open early, making way for 10 Cardinal completions for 166 yards in the first half. Krutz had four of those receptions for 70 yards before the intermission.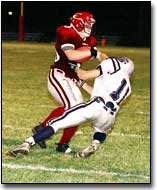 "I was more open then than I am in practice," Krutz said. "I think they were keying on Brian (Harris) a lot so we were open downfield."
In the second half, with a 20-0 lead, the Cards slowed things down and senior Brian Harris, who ended with 147 yards and one touchdown in 28 carries, began to kill the clock with rush after rush.
"I might have gotten a little conservative," Barnett said. "But we had the lead, I wanted to run some clock, and put the ball in the hands of our best player."
But Krutz didn't go away.
Late in the fourth quarter, after the Jaguars first score of the night, Krutz sealed the game for the Cards. He shook off his defender and scampered into the end zone after grabbing a 7-yard pass from junior quarterback Ronnie Morelan.
"It was pretty exciting," Krutz said of his first receiving touchdown the second of the season after he recovered a fumble by Sam Campbell in the game against DeSoto High.
"Steve's a guy we can count on. He's a positive for our team as far as work ethic goes," Barnett said. "As a coach you look for a guy who wants to be in on every play, and he does. He's someone who wants to be in for every snap."
Despite the thrill scoring brings and the hard hits he enforces as a blocker when the Cards attack on the ground, Krutz said playing safety on the defensive side of the ball is what he liked best.
"It's a fun job to fly around and hit people instead of blocking. I like to hit instead of being hit," Krutz said. "Plus, you don't have to worry or think about the play."
And the hard-hitting was the telltale sign of an intense team last Friday. Both teams went nose to nose dishing out punishment, be it through blocking or tackling. Mill Valley senior Marcus Wheat left Laws Field in an ambulance after a violent collision with junior Lear Bowling
"It was a pretty rough game," Krutz said.
The Cardinals came out fired up, but seemed to falter some as the second quarter got underway.
"We came out really good, and then in the second and third quarters we didn't do so hot," Krutz said. "I don't think our minds were there."
Barnett agreed, but noted that the Cards showed signs of brilliance early.
"At times in the first quarter, we looked as sharp as we had all year," Barnett said. "Then we kind of lost focus a little bit. But that's kind of expected. It didn't hurt us too bad Friday."