Local residents dress up homes for Halloween
Approaching 1039 Church Street, it's easy to see that the occupants like to decorate their house for Halloween. Every window is luminated with a plastic pumpkin, its electric light glowing to viewers outside. A sign hangs from the porch, viewable from the sidewalk, which reads "the witch is in."
Loretta Gantenbein doesn't want to be confused with the witch, but enjoys decorating her house for the Halloween holiday. In addition to the glowing pumpkins, a witch weather vane is atop her roof and orange Christmas-type lights adorn her porch and trees.
Gantenbein loves to decorate her house for many holidays and said it's even become a kind of small-time fame.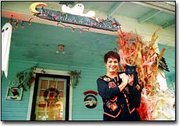 "Everybody knows where we live because of it," she said.
Nature also plays a part in Gantenbein's dr. Fallen leaves from her tree give the "autumn look," while cobwebs strewn across yellowed corn stalk, adding to the feel. Dead gnats are laced in the cobwebs, obviously meeting an early Halloween fate. However, that decoration wasn't planned.
"The gnats are terrible around here," Gantenbein said. "Those gnats; I don't know where they came from. Those came naturally."
Gantenbein decorates inside her house as well. She said the decorations would stay up until early November, then come down for her next favorite Christmas. She doesn't even bother with Thanksgiving, she said.
"Halloween, Fourth of July and Christmas, those are the three biggies," Gatenbein said. "Then in March, all the KU stuff goes up for the tournament.
Donna Oleson also likes to spice up Halloween with a witchy presence. For the past ten years, she has decorated outside her house with a complete witch's setup caldron and all.
Her witch display does have an eerie habit of disappearing. This year's witch is her third she's made. Oleson has had her other two witches stolen since she began the display.
"Usually the morning after Halloween, I would find a shoe in the driveway, a sock here and she was gone," Oleson said. "This one's lasted a couple of years.
"I don't want to brag because I'm afraid I'd go home and she won't be there."