Digging Graves
Kansas Gov. Bill Graves takes time for Eudora West Elementary students
Calling it the best job he's ever had, Gov. Bill Graves spoke to students at Eudora West Elementary last Friday. He told students the importance of a good education at a young age, stressing they make the most of their learning at Eudora West.
Graves spoke to students and faculty to kick off the school year. Principal Rod Moyer said he tries to get speakers from all walks of life to speak to students throughout the year. Getting Graves to come this year, he said, has been an effort in the works for a while.
"I've tried to get Bill for six years," Moyer said. "I averaged two to three letters a year with phone calls. It's kind of funny, because I got to know his scheduling gal pretty well. She's been pretty supportive."
Graves said what is learned now could greatly affect their future.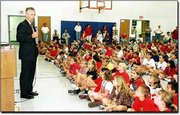 "Education is so critically important," Graves said. "The better your education, the better your chance you'll have for better opportunities over your lifetime."
By participating in speech and debate while in school, he was able to gain the skills necessary for being governor, Graves said.
"I spent a lot of time practicing in front of people and groups," he said. "Perhaps you're learning to be good communicators, because it can be a very important tool the rest of your
See Graves, Page 3A
life."
He encouraged students to learn a foreign language, due to the ever-increasing need for bilingual people in a global economy. He also attributed sports as a key element in his personal development. He emphasized winning isn't everything, but being involved is.
"It wasn't so much winning that made the difference, it was being involved," Graves said. "In fact, sometimes it's losing and learning about how you rebound after those (times)."
Graves said he has some regrets about his education, but only because he didn't apply himself as much as possible in some areas, such as science.
"I really think if I had applied myself as a young person, I'd be better off today," Graves said. "Don't make the same mistake I did."
Graves concluded with a questions and answer period from the students. One audience member asked Graves what he disliked about liked about his job. Graves said he liked everything about his job and would love to continue being governor, although he felt term limits important. He also gave one of his dislikes.
"Often times, I have to tell people no and that's not an easy thing to do," Graves replied.
Another student asked what job he would like to do if he weren't governor.
"I'd like to play centerfield for the New York Yankees," Graves said.
After the presentation, two students presented Graves with a plaque for coming to speak.