Senior Carolyn Jones has been a part of the Eudora cross country program throughout her high school career.
That makes this season special. She has some ownership in the program sweat equity, if you will.
ross country is special when compared to other sports because the reward in the end is priceless,Jones said.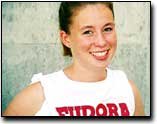 So she goes into her final season of competition the lone senior girl on the team with a couple of goals, one of which is to be a top-10 finisher in every meet this year.
he upcoming meet in Wamego is one of the toughest,Jones said. here will be competition.
Coach Paul Boone has worked the Cardinals hard throughout the early season in spite of the heat and varied the workouts in an effort to keep things fresh.
One such change is the speed work the Cardinals go through each week. While most programs work on distance running the essential ingredient in cross country training Boone is developing well-rounded runners by having the Cardinals work on short distances as well.
It might make the difference in a late-race kick, Boone figures.
Jones has bought into the philosophy and has trained hard. Working against the boys team has proven to be an advantage.
eing the only senior girl on the team is a challenge,she said. think I'm outnumbered by the guys. I think we will do really well this year, especially the guys team.
More like this story