Some might say it doesn take a rocket scientist to fly model rockets, but for one Eudora youth it paid off to have some knowledge of a rocket inner workings.
James Snow, rural Eudora, recently won national awards for construction and flight of miniature rockets and gliders. James participated in a contest July 29 Aug. 4 at Penn Rose, Colo. He set two national records for flight times of his ships. One rocket took first place for flying nearly 1 km and another took the national record of flight by three minutes. He also took third place as a meet champion and received an honor of best rookie scale modeler.
James, 16, has been flying and building model rockets for nearly seven years. JamesMother Willy said his awards were astonishing because he was self-taught in building and flying model rockets.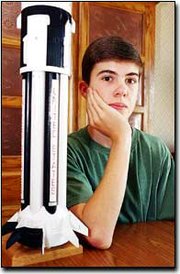 e went out there as an independent because there aren any rocket clubs around here,Willy said. e didn have any mentors or anything.
Without experience with other rocketeers, James said meeting others interested in his hobby was a highlight.
p to this contest, I never talked to anyone who was into rocketry,James said. hat was the highlight of the trip.
Detail is key when developing a winning rocket. James is especially proud of a 1:65.5 scale replica of a Saturn 1B, which was a test phase rocket for Apollo 7. He received third place for building a scale model of an existing ship.
ll the details I made by hand,James said. here over 800 details on here.
A Eudora High junior, James has studied physics, chemistry and math. In his spare time, he reads books such as he History of Subatomic Particlesand sells honey from beehives he tends.
Willy said she feels her son progress is extraordinary, because he had problems academically when starting school.
hen he started out in school, I thought he never learn to read,she said. e sure is talented in other areas.
His father, Mike, agreed.
t the start of school, he was always a step behind,Mike said.
Although he has knowledge and background in science and physics, James said, he relies on a different form of knowledge for rocketry most of the time.
use common sense more than anything,James said. ou kind of have a feeling of how it going to go, but I double check everything and do my math anyway.
Despite his education in physics and the ability to fly a winning rocket, James said he rather fly on a real rocket with a mission. His future goal: geologist.
hen theye ready to go to Mars, theyl want geologists to go along,he said.