In an effort to help septic tank users in Douglas County, local officials have agreed on Eudora as the best possible solution. A resolution will be voted on within upcoming months.
On Wednesday, August 23, the commission agreed on a proposal to house a septic waste storage tank in Eudora. If approved, the 150,000-gallon plant would be built by the county with an approximate price tag of $575,000.
Eudora City Engineer Matt Taylor said the facility would be supplemental to the city's wastewater treatment plant.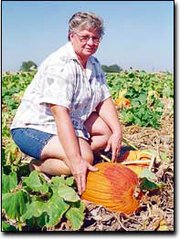 "It would be built as an addition to that plant," Taylor said. "It's not a moneymaking deal. It's not designed to be a moneymaking venture as much as it is designed to help."
Douglas County Administrator Craig Weinaug said Eudora is the most viable option to solve the problem.
"The simplest answer is that Eudora's city officials have been willing to work out something with us," Weinaug said. "What we've worked out would be at no cost to the city of Eudora.
"They've been willing to work with us to come up with something."
Problems arose when rates in Lawrence increased so septic haulers began dumping waste on land in rural areas. Then, some rural Douglas
See Waste, Page 3A
County landowners became upset with septic haulers dumping waste on rural land. Land application is currently legal, but Weinaug said he hopes the Eudora plant would help resolve the issue. Sewage would be brought to the plant and when full, a company would be hired to inject the waste into the ground instead of on the surface.
Taylor said this would be a viable option for many rural residents.
"People outside the city limits don't have to worry about someone dumping waste in the ground," he said.
Weinaug said the Eudora plant should be able to take in all septic waste for all of Douglas County residents.
"If everything works out the way we hope, the septage will be handled from all unincorporated areas from Douglas County," he said. "Any part of Douglas County where residents have septic tanks."
Paying for the project will come at a cost. The proposed plan is an assessed annual fee of nearly $20 for property owners with septic tanks, however the number has not been agreed upon.
"We don't have that number nailed down yet," Weinaug said. "The projection we have now would be $17 per septic tank. I'm anticipating that $17 fee will grow before we're done."
Chuck Wingebach lives near the area of the wastewater treatment plant. He said if the city maintains the proposed plant as well as the wastewater treatment plant, there should be little reason for concern of city residents.
"I could only count on one hand, and I couldn't use all my fingers, the amount of times I've smelled the wastewater plant," Wingebach said. "So, I know they city's going a good job."
Nearby resident T.A. Bendon agreed the city has done a good job with its current facilities.
"They had a problem with it once, but other than that it's been pretty good," Bendon said. "If they can reuse the waste it's fine with me as long as it doesn't tear up the environment or anything. If it's going to help everybody else, I'm all for it."
Weinaug said there is no official timetable for this proposal, but the commission hopes to have a resolution within the following months.
"I don't have a timeframe yet," Weinaug said. "The commission has been discussing this for several months. We're too the point where we see 'yes, this is feasible,' but we haven't set out a timetable."
More like this story