Communicolor employees deal with plant shutdown, emotions
When Communicolor closed its doors on Aug. 1, Ron Zook had worked for the direct mail printing company for 10 1/2 years. As production control supervisor for the company, he controlled scheduling and job planning at the plant. However, when he received word his services and those of 134 other employees were no longer needed, Zook decided it was time for a vacation.
"I took a little time off," Zook said. "The amount of pressure of closing a plant it was time to recharge the batteries. You don't know how much there is unless you've closed a plant before."
With a severance package that provided for his wife and two children, Zook took time to regain his composure. Now ready to get back into the job market, he's seeing what's available in his field.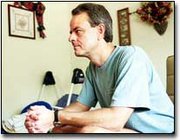 Zook said he's talked to representatives from American Eagle Outfitters, Inc., even though they said it might be 2001 before any jobs are available. He's considered returning to retail management, having previous experience with a Lawrence swimming pool and patio supply company. But while job searching, he keeps his family in mind. His kids attend school in Eudora and he doesn't want to relocate.
"There's a little opportunity out there," Zook said. "Pretty much everything is in Kansas City."
Pam Holloway, a former accountant at Communicolor, was able to find work in her field. She now works in accounting for Amarr Garage Door in Lawrence's East Hills Business Park. She said she could have taken some time off for a recharge but decided to go to work as soon as possible.
"I could have and I had kind of planned on it," Holloway said. "They made me an offer at this job and they made me an offer as soon as possible."
Zook said the closing did come as a shock for many of the employees. But, he said, combining the Eudora plant with its sister plant in Ohio was something he saw coming.
"We were extremely seasonal," he said. "We weren't anywhere close to 100 percent capacity, neither us or the Ohio plant. I feel it was strictly a business decision to combine two plants."
Both former employees said Communicolor did an excellent job of providing job services. It brought in skilled professionals in resume writing interviewing skills and companies interested in hiring workers. But Holloway said the hardest thing to deal with has been the loss of so many friends and co-workers.
"Probably the hardest part is not seeing the people that you were used to working with," she said. "It was a pretty close group."
Zook said there were also classes offered to help workers deal with the emotional aspects of the shutdown. But still, the feelings remain when a worker loses a job from a shutdown, the down feelings will come. But, he said, you must press on.
"You didn't feel like doing a whole lot," Zook said. "But that was some of the layoff mode.
"You get your batteries recharged and you go again."