Keeping Cards healthy is his top priority
Certified athletic trainer Jeff Fries (pronounced Freeze) has been working to keep Eudora High's athletes in shape to compete, which would lead some to believe that he likes his job.
"I like the laid back environment most," Fries says. "Also, the fact that I'm my own boss and the kids are a lot easier to work with, they don't think they know everything.
The only part of it all that isn't quite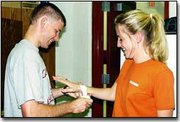 See Trainer, Page 3B
as intriguing to Fries is the "athletic training itself, it's a lot of hours without much pay."
Although, he has student in training sidekick Jeremy Goates for assistance.
Being a certified athletic trainer didn't comeeasy for Fries . He attended Kansas University. While attending KU, he successfully completed the hours necessary to earn his bacholer's degree in athletic training. He was required to take a full battery of classes in science, education and health.
This is his fourth year of athletic training and he approaches the goal of working full-time at a high school.
A school district Eudora's size doesn't have money budgeted for a full-time trainer, but several school districts in Johnson County, including Shawnee Mission, Olathe and Blue Valley have an athletic trainer at each school.
For Fries, working as a trainer is a dream come true for a kid who knew he didn't have the size or skill to make a living on the athletic field.
Taking care of athletes is a nicealternative to taking his lumps on the field of competition.
"I knew I wouldn't be able to play the sports so I thought this was the next best thing," Fries says. "I also like being with the team."