Mr. fix it
Rural Eudora doctor quits full-time medicine for tool belt
Peter Bock loves to fix things.
Since 1987, the rural Eudora resident has fixed people as a family practice doctor. Desiring change and wanting more time with his family, Bock is exchanging his stethoscope for a tool belt.
His desire to be more involved outside the office was a big reason for his decision to leave full-time healthcare, Bock said. He made up his mind six months ago.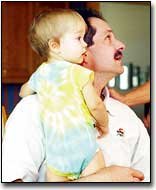 "I've contemplated various aspects of the change," he said. "I decided I needed to get out of the full-time aspect for family reasons and (to attend) various community functions.
"I just feel like I need to have more control of my life and my family life."
With five children to tend to, his wife, Andi, said it would be nice to have him around the house more.
"I might actually see him," she said. "It gets pretty hectic sometimes."
Bock said another reason for his change was the stress of the less hands-on aspect of healthcare. With constant paperwork, he said the job became less fulfilling.
"It amounts to a lot of time, but nothing productive," he said. "Medicine has become less satisfying because you're doing the paperwork. You're helping (patients) out less directly than indirectly by jumping through hoops for them."
You can take the man out of the job, but you can't take the job out of Bock. Now, he will be operating a handy man business out of his home. His services include electrical wiring, bicycle repair and oil changes to name a few. He will even make house calls.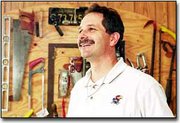 Bock said with his fix-it-upper nature, his new business is the natural progression.
"I always like fixing about everything," he said. "I've worked with other people as far as plumbing or electrical. I do enjoy doing that kind of work."
Andi Bock said her husband's handyman love is evident.
"Every spare minutes that he's not doing medicine he's fixing something for somebody," she said.
Although he's leaving his full-time practice at Cedar Valley Health Care, Olathe, he'll not be giving up medicine totally. Bock said he would maintain his license and board certification, setting up a private practice in his basement. He said this would bring lower costs to his patients and allow him to focus more on patients' problems than their paperwork.
Bock knows his home businesses may be a cut in pay from the stability of big medicine. However, he insists the real lesson learned it's not the amount of money made, but the amount of fulfillment received.
"I don't have any regrets about doing the medicine thing," Bock said. "Your putting one's skills to use that made one feel good or happy is more important than the monetary."