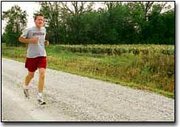 When Stephan Speicher decided to come to America with the foreign exchange program, he knew he'd be giving up a year of his life.
His native home of Germany doesn't allow his one-year experience in the States to count toward his education. Despite the lack of accreditation, Speicher said, his first-hand experience of school spirit has showed him a great quality of American school systems.
"I think what I really like in America is the close relationship to the school," Speicher said. "In Germany, you go to school and that's it."
A 16-year-old Eudora High senior, Speicher plays saxophone in the Marching Cardinals band. He also runs cross-country for EHS and said the new experience has been challenging.
"I've never ran before. It's pretty tough but it's fun," he said. "I never did sports in Germany because I was too lazy. Every day, (running) four or five miles is pretty tough."
Speicher is staying with Bruce and Bonnie Neis. He met his host family during the summer while they vacationed in Germany. After the meeting, Speicher said, he was comfortable knowing he'd be staying with the Neis family.
"I had a really good impression," he said.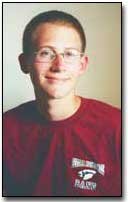 Bonnie Neis said having Speicher in her home has been good. He tends to chores such as washing dishes and cleaning the house, but she also says he's a "typical teen-ager."
"He does a better job of keeping his room clean and doing the chores than my other two boys," Neis said. "Exchange students are part of the family, they're not guests."
Speicher said he isn't sure what the future holds for him. After this school year, he will return to Germany to complete his education. He may then study his two best subjects, biology and chemistry, in the hope of being a biochemist.
When he returns to his hometown of Ober Moerlen, population 5,5000, he said he's sure to have fond memories of his time spent in Eudora.
"I'm happy here. It's not too big but it's not too small," he said "I really like it and I have some good friends here."
More like this story