Local artist learned brushstrokes after stroke
Bev "Granny B" Willis loves to paint her heart out. Every day, she picks up a brush and paints something, as big as a canvas painting or as small as jewelry. Ten years ago her ability hadn't taken form, a talent she attributes to her breakthrough after having a stroke in 1989.
Now, she is able to use her talent for pleasure and helping others to display their work with an art show at this year's EudoraFest.
Willis was previously a child custody worker for Kansas. High stress, coffee drinking and smoking took a toll, she said, sending her from living a fast-paced life to being held captive in her own body.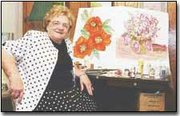 "For five years, I was a prisoner in my own environment and I hated it," Willis said.
After her stroke, Willis moved to Pinecrest. Two years later her grandson, Thomas, brought her watercolors as a new activity to try.
The watercolors began a healing process in her, which would eventually lead to painting of outdoors scenes.
"When I had the stroke I was totally helpless," she said. "The reason I painted those, they were the things I could not get to when I was sick. I think it was because I was denied that."
As she began to recuperate, she found a house in Eudora. After taking a look inside, she decided to make it her permanent residence.
"When I moved in here, I guess you could say the sacred circle works because I started getting better," Willis said.
She continued painting on flowerpots, pillows, jewelry and pictures. She became an active participant in the Lawrence Art Guild. She began displaying her work wherever she could.
"I'll show my art anyplace they'll let me," Willis said. "I also will paint on anything."
Now she's trying to help other artists do the same. She has been involved with EudoraFest since it began four years ago, organizing an art show for local artists. Willis said though she knows Eudora is filled with artistic talent, she has little success in bringing it out in the open for the event.
"I've had no luck with drawing in artists from Eudora and I'm sad about that," she said.
In an effort to refine more Eudora talent, Willis has started teaching children the art of painting in her Eudora home.
"I don't have to do what teachers do and say 'keep inside the lines,'" Willis said. "I don't have any lines."
To showcase her students and other child artists, she will be including a children's art show with the general show for EudoraFest.
"Think about how much refrigerator art you've seen," she said. "Why not put it where someone can see it."
Willis said though the stroke was a hard trial to endure, she grew from it and learned a great deal about life. Her high-stress life is over and she now works to make each day count.
"I live everyday like it was the last day on this earth so I don't have anything left undone," she said.
Anyone wanting more information on the children's or general art show may contact Willis at 542-1934. The EudoraFest art show is slated from 10 a.m. to 6 p.m., Oct. 7 at the Eudora City Park on 7th and Main Street. It will be in city hall if weather is inclement.