Stopping the herd
Unbeaten Buffs bring solid ground game to Eudora
Spring Hill — One half was all it took for the Cardinals to blow by the Broncos last week, but they'll need to put together a complete, near-perfect game this week against undefeated Prairie View.
After last week's game, which Eudora won 33-7, was cut short because of severe weather including lightning strikes to the concession stand and the roof of Spring Hill High's gymnasium the Cards have the task of playing a team that handed two-time defending Frontier League champion Louisburg a 25-13 defeat last week.
"We're looking forward to the challenge," said coach Aaron Barnett. "They're a pretty good team."
Actually, Prairie View is a little better than "pretty good." It is the only remaining undefeated team in the Frontier league after it dispatched the Wildcats in a game that was suspended Friday night because of the foul weather and resumed the next day.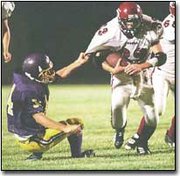 If the Cards can come out on top of what should be a battle of the running backs, they will be tied for first place.
But it's not going to be easy, even with the home field advantage.
If the Cards are going to get past the Buffaloes they will have to stop the rushing powerhouse in its tracks.
"They do a very good job of rushing the football," Barnett said. "If we're going to have some success, we're going to have to shut their offense down, or at least slow it down."
But Eudora brings a rushing arsenal of its own one led by Brian Harris.
The senior tailback saw his string of 100-yard games end in last week's abbreviated game. Perhaps there should be an asterisk attached to his record being snapped against Spring Hill, seeing as he rushed for 84 yards and a touchdown before the game was called with 4 minutes still to play in the first half.
Eudora also brings the rushing power of junior Zac Tyler and sophomore Tyler Jackson to the rushing showdown.
Tyler rushed for 44 yards in 5 carries one for a 22-yard touchdown against Spring Hill, and will need to step up as Jackson remains sidelined with a knee injury. Jackson left the game near the end of the first quarter last week and did not return to the game. He had an MRI Tuesday, which revealed a torn ACL in his right knee.
He is out for the remainder of the season.
"Running back is a position we have some depth at," said Barnett, adding that Tyler will replace him as the starter. "It doesn't hurt us as far as our No. 1 team goes. It just means that some people are going to have to play both ways.
"We're going to miss him."
Stopping the Prairie View offense is going to be the key, and to do that the Eudora defense will have to step up to the challenge. It will need to play a more physical game, Barnett said, in order to keep Prairie View from running away with the game.
And a more physical style of play is something senior linebacker Blane Christenson said he was ready for especially in this week's matchup against the league's top team.
"Playing hard is the only thing you can do," Christenson said of defending the running game. "And I want to be as tough as I ever was."
Eudora's defense will need to come out even more fired up than it was last week, even though it came out against the Broncos with the intensity that Barnett has been looking for all season.
"I wanted us to come out with some intensity right off the bat and I think we did that," Barnett said. "I didn't want that lull this week."
Christenson said that although the intensity consumed the entire team, he thought that the defense stepped up to put the Cards in prime offensive position.
"I think our defense played real strong and our offense did real good at scoring some points," Christenson said. "If we would have had a whole game (the defense) could have even done more."
Eudora's defense recovered all three of Spring Hill's offensive fumbles and the special teams unit grabbed another two. Add to that, junior Josh Bowser's interception, which led to the first of five Bronco turnovers that would lead to Cardinal touchdowns.
"We're doing a good job of causing some turnovers," Barnett said. "We need to be able to punch it in when we can. I was pleased with that."
Another area that will need to play solid against Prairie View this week is special teams. Barnett said he was pleased with the execution of the special teams against Spring Hill, especially after focusing more on that during practice. But he said he would like to see even more from his punt and kickoff coverage some plays that could give the Cards the edge in close games like the one coming up this week.
"We're not making any big plays on special teams," Barnett said. "We're not giving up anything on the negative, but we're not making any big plays either, and that's something we need to do."