New mayor looks to unite council
Tuesday's general election brought a change in Eudora's top political position with the election of a new mayor.
Former Eudora City Council member Ron Conner won the election against incumbent Fred Stewart with 423 votes to Stewart's 349. Conner received 55 percent of the vote to Stewart's 45 percent.
Conner said he was pleased with this year's voter turnout and felt he had support from voters both young and old.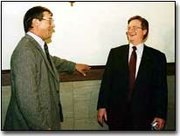 "A lot of my support was from all generations," he said. "You never know how people vote but I think my support was across all age groups so I was happy about that."
The mayor-elect said he hoped to unite the council in planning for the city's future. His idea is to set a list of the top-10 priorities for the city.
"The first thing we'll try to do is encourage the council and the mayor to set some long-term goals," he said. "I know there's a lot of desire to improve streets and roads but they're going to be tough to pay for."
Mayor Fred Stewart said he was disappointed that he lost, but supported the people's choice for a new mayor.
"We'll let Ron take over and hope everything goes well," he said. "I was there for four years and that's long enough. I feel pretty relieved that I don't have to worry about anything right now."
Stewart said he was up until 1 a.m. on Wednesday, removing political signs across town. Stewart said he has some laid-back plans now that he will no longer be Eudora's mayor.
"I'm going to raise a garden and go fishing," he said.