Pitching coach strengthens Cardinal team
The key to winning baseball games is strong pitching. That's the philosophy of Eudora baseball coach John Dunaway.
To put that theory into action, Dunaway needed some help.
That help arrived this year, in the form of a 23-year-old veteran of the game.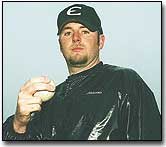 Eudora pitching coach Dirk Kinney has already proven his worth to the Cardinals' team after just two games this season.
Dunaway said he had already seen a difference in the pitching strength of his team.
"He does an outstanding job. He's a good communicator, good to have one the bench and has a good sense of humor," Dunaway said. "I'm very excited to have a person of his talents with the team."
Despite his age, Kinney has a long list of accomplishments as both a baseball player and coach.
A late bloomer, Kinney didn't start playing baseball until he was 11 or 12 years old. It wasn't until eighth grade that he started getting serious about the sport. It didn't take long before the game became second nature to him.
"Pitching has, for the most part, come naturally for me," he said. "I guess it kind of runs in the family."
Both of Kinney's sisters played college softball in California. They'd come home and play with him, which was both good and bad for Kinney as a youngster. He said his sisters could hit better and throw faster than him, which made him work twice as hard at times.
Kinney spent most of his baseball days playing in his red-dirt home of Oklahoma. He spent the latter years of his childhood in the Elgin, Okla., area. During his high school years, Kinney said he won all-state honors and pitched six or seven no-hitters. Fresh out of high school, he made his way to Kentucky where he played Division I baseball for a semester. Feeling a little homesick, he headed back to Oklahoma where he pitched at Murray State College, for two years. There, Kinney made the all-conference team during his sophomore year.
After Murray State College, Kinney packed his bags for Kansas and played at Sterling College. Between his junior and senior years, he went to Minnesota and played for an independent league team for five weeks where many other famous baseball players, including Darryl Strawberry and Matt Nokes, had played.
In his senior season, Kinney accomplished his most memorable feat from the mound, pitching a no-hitter at the college level. That same year, he made all-conference. Kinney thought his pitching career had come to an abrupt end when he tore a ligament in his elbow during nationals.
He went on to graduate in the winter of 1999, earning a degree in physical education with minors in computers and history.
He currently teaches computer applications and physical education at Eudora High School.
The Cardinal pitching staff has embraced the philosophies of the new coach.
Senior pitcher Jay Pewenofkit grew up in Oklahoma and considers that a link between him and his coach.
"We see eye-to-eye," Pewenofkit said. "He knows my potential as well as the other pitchers. No one is better than the other is. He treats us equally and doesn't play favorites. We're all his favorites."
Pewenofkit said his only regret was that he didn't have more time to work with Kinney.
"I wish that I'd had him to work with from my freshman year," Pewenofkit said. "Having him is going to pay off for all of us."
Kinney anticipates his pitching crew finishing within the top 10 in the state. Right now, Kinney said, the pitchers were ranked fourth in the state in the ERA category.
Senior pitcher Dan Chrislip said the learning curve has taken an upward swing since Kinney came aboard.
"Coach Kinney has helped us improve a lot," Chrislip said. "I have learned a lot more this season than I have in the last three years. And, I'm in a lot better shape from all the running we do."
Kinney believes that having the body in good shape works hand-in-hand with strong pitching. The Cardinals' workouts are very similar to what Kinney faced in college, he said. The level of concentration should play a key part in the progressive development of the pitching staff.
Along with developing the pitchers, Kinney anticipates a lot of fun.
"I want the kids to be able to have a good time," he said. "I think that's one of everybody's goals: to enjoy playing."
Aside from coaching, Kinney hopes to play for the Topeka Capitals this summer and give playing another crack. Then, he'll see what happens from there. Kinney plans to attend Benedictine College and earn another degree in administration. He has set high standards for himself and plans on being a principal for a school by the age of 27 and a superintendent by age 35.
Some say home is where the heart is, but, for Kinney, home has been where the mound is.
"There's nothing like being a pitcher," he said. "I like the pressure and being under the spotlight the entire game. Good pitching and defense wins games and I like being a part of that. Baseball's a game where if you don't produce on the mound, then you most likely won't win."
This spring at least, Kinney will live vicariously through his own crew of pitchers.