Water plant tests results show Eudora's supply is clean as a whistle
As Eudorans pull life-sustaining liquid from their faucets, they can rest assured their drinking water has met quality standards put forth by the government.
A new report issued by the Environmental Protection Agency (EPA) shows Eudora's water is safe to drink. The test, mandated by the Safe Drinking Water Act, requires communities to test water annually and measure the sample against set standards. The reported sample was taken in May 2000.
A water sample is taken from a faucet at the city's water treatment plant, which is considered the "point of entry," or the first tap to come from the plant.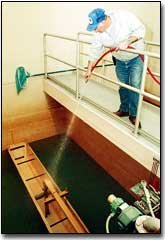 An analysis of the sample showed traces of contaminants such as barium, chromium, copper and lead contaminants in the supply. Barium was detected at a level of .093 parts per million (ppm), which is below the state maximum accepted level of 2 ppm and lower than Eudora's 1999 level of .431 ppm. The chromium level of 1parts per billion (ppb) was also below the maximum allowance of 100 ppb. The maximum copper level allowance is 1,300 ppb. Eudora had a copper level of 40.9 ppb, no change from 1999. Lead was also found in the water supply at a level of 1.5 ppb, compared to the maximum acceptable level of 15 ppb.
Nitrate and fluoride were also present in the sample. The maximum acceptable level of fluoride is 4 ppm. Eudora has a level of .16. The nitrate level was reported at .12 ppm, much lower than the 10 ppm allowed by the state.
The EPA report cited erosion of natural deposits, corrosion of household plumbing systems, corrosion of household plumbing systems and runoff from fertilizer use as likely sources for the contaminants.
Eudora Water Plant Manager Jon Showalter said the one of the biggest challenges the plant faces is removing iron and manganese from the water, making it safe to drink.
"Well water in this area is relatively high in iron and manganese," he said. "This plant is set up mainly for iron and manganese removal."
The city's annual report has been consistently favorable since the Safe Water Drinking Act took effect three years ago. Showalter attributes the water's favorable results to the quality of the water treatment plant.
"For the size of town, (Eudora) has a very nice water plant," said the 16-year city employee.
Bill Harlow, city superintendent, said water from city wells is pumped to the water plant and then treated for consumption by Eudora residents.
While some may complain that their water's taste isn't to their specifications, the taste is not regulated by the EPA, Showalter said.
"As far as the water, it's all in personal taste," he said. "I live in Lawrence and I'd rather drink the water here. It's personal preference."