Bowser chases school record
Breaking a couple of school track records this season may be more obtainable than it sounds for Eudora junior Josh Bowser.
Bowser, who competes in the long jump, 100-meter dash, 200-meter dash, the 4x100-meter relay and occasionally the 4x400-meter relay, has gotten off to a strong start this year.
"I've been doing a lot better than last year so far this season," Bowser said.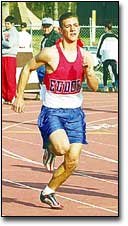 Bowser attributes his early success to hard work and weightlifting. Over the summer, he spent many hours in the weight room, preparing himself for the football and track seasons.
Bowser said the long jump is where he expects the most this season.
"I'd like to see him get to the mid to upper-21 area," Coach Dave Durkin said. "He should be able to do it. He's been in the 20s so far this season."
Bowser has his sights set a little farther. He anticipates beating the school's long jump record of 22 feet, 1.5 inches. His longest jump this season was 20-5.5 at the Snowball Relays in Wellsville on March 27. Since then, Bowser has competed in one other meet. His performance in that meet wasn't as strong as he'd anticipated.
"It was a warm day, so I didn't warm up as far as I did at the Wellsville meet," Bowser said.
Last year, he averaged jumps in the high 18s to lower 19s, with his longest jump coming in at 20-7.
Durkin said Bowser's improvement has already been apparent this season.
"He's a lot stronger than last year," he said. "Last year, he'd go one time and get a jump off, but then the more jumps he had, the more tired he got. The jumps, in turn, were shorter. He's also gotten a lot stronger in his races. He's gained some maturity from working hard in the off season."
Not only does Bowser have his eye on the school record, he also plans to qualify for the state tournament. Last year, he went as an alternate for a relay team.
"Since I went to state and warmed up, I got a taste of how exciting and fun it was," Bowser said. "I think that sense will push me even more this season. I want to go to state."
Bowser still has a bit of tweaking to do before that dream comes true.
"His technique has improved," Durkin said. "He needs to continue working on getting the approach down and a better plant to take off with. These will make him consistent and he won't have to look at the board."
More like this story