Grilled at the steak
A welder by trade, rural Eudora resident Don Land makes a mean smoker
As warm weather quickly approaches, Eudora residents are gearing up for summer gatherings and cookouts.
Those with mouths watering for that special smoked flavor need only head north to find the right equipment to get the job done.
Don Land is owner of Don's Smokers, located about three miles north of Eudora on Leavenworth County Road 1.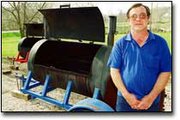 A welder by trade, Land has been making smoker grills in his Leavenworth County home for five years. Before he began building smokers, he spent his free time making lawn ornaments.
"I used to sell stuff out of the front yard here; windmills and such," he said.
A Eudora friend, Steve Koerner, recommended Land try his hand at building smokers. He liked the idea and started working.
Though he sells and rents smokers, Land said it's more of a side project than a full-time business.
"I've built a few and sold a few," he said. "Nothing we're getting rich at. The sales, I don't push that much. But if I get an idea in the wintertime, then I'll make a few."
Land's smokers are available for rent at a price of $30 for two days. For those who want to have their own, Land said the prices vary, but can go up to $1,800.
"I build them from $300 and up," he said.
Being outside of Eudora and even farther away from K-10 Highway has its disadvantages, such as limited business due to the lack of visibility, Land said. And although his small
businesses is more of a hobby at present, he hopes it will one day expand to be bigger and better.

"That's our worst problem. If I was out on K-10 Highway, it could be better," he said. "If I had five people pulling in a week, I guarantee you I'd build them."
Until then, he will continue selling or renting his smokers to anyone who's interested. He said his clientele is varied and he welcomes all.
"Bikers pull in on Harley Davidsons when somebody's pulling out from a church group," he said.
To contact Don's Smokers, call 542-3893.