All in a day's work
Idaho retirement will end pastor's nursing home ministry
When Lowell Weinacht enters Eudora Nursing Center, he's greeted by smiles and words of welcome. As he makes his way through the halls of the building, he stops to share a word with residents and faculty, often bringing a smile to their day.
Weinacht's visits to the nursing center will soon come to an end. The pastor of Hesper Friends Church will retire in late June and move from the area and the friends he's grown to love.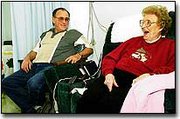 Weinacht came to the Hesper community, south of Eudora, nine years ago after pastoring in Fort Collins, Colo., for 19 years. After taking the Hesper position, Weinacht starting visiting places such as Eudora Nursing Center (ENC) as part of his job. His church holds a service at ENC in rotation with other churches in the area. Through visits, Weinacht said, he developed friendships and soon began visiting residents on a weekly basis.
"I kind of inherited this job," he said. "I really don't do anything that special. I just go around and visit."
Many of those Weinacht visits would disagree with his modesty. Ethel Hottman said she met Weinacht one day after he came to the ENC chapel. Weinacht started visiting her on a regular basis and their friendship blossomed. Hottman expressed her appreciation for her friend and their time spent talking about everything under and above the sun.
"I really appreciate his visits," the 92-year-old Hottman said. "I like to talk to about the Lord."
Weinacht also sang the praises of Hottman and said the two often discuss issues that face modern society. Weinacht said he appreciated Hottman's positive attitude.
"I've never heard anyone else say, 'I do not have a temper,'" he said. "She shames us all."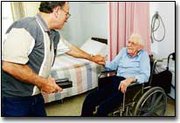 Just a short distance down the hall, Eldon Manning is next on Weinacht's list to visit. Manning came to ENC in December and the two have since become friends.
"I've just begun to know Eldon," Weinacht said.
The two act as if they've known each other longer. The 89-year-old opens up to Weinacht and the two discuss Manning's health and his adjustment to living at the nursing center. After living in De Soto for several years and working in the area, Manning decided to make the move. He chose to live at ENC because several former De Soto residents also reside there and he wanted to be among friends, he said. Manning said he gained a new friend after meeting Weinacht and is always happy to see the volunteers, but particularly happy when it's Weinacht.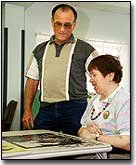 "This man is good," Manning said. "We all like him. I enjoy him coming. He's our best."
On June 25, Weinacht will move from Hesper to Nampa, Idaho, where he and his wife will live nearer to two of his four children. He'll take with him fond memories of those he met at ENC, such as Barbera Sellar. Weinacht recalled a time when he and Sellar worked on a puzzle, one of her favorite pastimes.
"Last time we were in here, we were working on a puzzle and couldn't get it square," he said. "We finally found one piece to make it right."
Weinacht said leaving the community is difficult because of the relationships he's developed while working here for nearly a decade. He encourages others to donate time and volunteer to visit those living in centers such as ENC. And, he said, you just might learn something.
"This is where Eudora history is, right here," he said.