Answering a divine call
Local resident to become pastor after a decade of contemplation
After working with actors for 30 years, Eudora resident Piet Knetsch is now on stage with a more powerful director: God.
Knetsch recently decided to become a Methodist pastor. He has worked in theatre for more than three decades and currently works as production manager for Lawrence Community Theatre.
He said his decision to become a pastor wasn't made in haste. In fact, it may be long overdue. Knetsch said he's had the desire to become a pastor for 10 years but until recently wasn't sure it was what he was meant to do.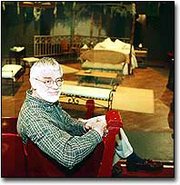 "One doesn't make that decision casually," he said. "That call continued to be stronger for me. One of the things that helped strengthen that call was experiences in Eudora."
While living in Eudora for the past six years Knetsch has attended mission trips with United Methodist Church, which has taken him to Guatemala on two separate occasions. By working with communities both locally and internationally, he said it became clear he could no longer deny his desire to become a pastor.
Knetsch said one member in the local congregation asked him, "What took you so long?" Others giving him similar encouragement confirmed he made the right decision, he said.
"That was very heartwarming to get that kind of support," Knetsch said.
The pastoral process is not an easy one, he said. First, he submitted a letter to the United Methodist Church, expressing his desire to become a pastor. Next, a committee of upper-level religious leaders and his local church voted for his approval. A two-thirds majority is needed, but Knetsch received a unanimous vote. Finally, he met with district community leaders and discussed where he would go to begin his training.
"There are lots of hoops to jump through like there are in any profession," he said. "So, I'm jumping through hoops right now."
To begin his training, Knetsch has been assigned to First United Methodist Church, Pittsburg. While there, he will work with a campus ministry at Pittsburg State College.
Knetsch's move will also include his wife, the Rev. Dottie Forninash Knetsch, who pastors at Eudora United Methodist Church. Pastors within the church are placed by appointment, so the couple approached leaders to request they be moved together.
The request was granted and Dottie will move with her husband to Pittsburg to pastor at First United Methodist Church. She will also be the executive director of Wesley House, a social service agency that's an extension of the church.
Dottie said it was hard to watch her husband struggle with the decision to become a pastor over the last 10 years.
"Piet's journey is typical of people who deny the call for so long until they finally say, 'OK.' God overwhelms us eventually one way or another," she said.
While he will divide his time between training and serving the church, Piet said he wants to continue working in the theatre should the opportunity arise.
"That's very important to me," he said. "I hope it continues to be a part of my life in some form."