Cardinals perform for the home crowd
The Cardinal varsity track team was all smiles after Friday's Eudora Invitational, Eudora's first home track meet of the season.
"I don't think there was a single kid with a Eudora shirt on that was not excited about how they did," Coach Dave Durkin said. "It was a really good meet. The kids responded well to the home crowd, and it was a lot of fun."
The meet produced many firsts and personal bests for Cardinal athletes. Eudora sported 16 first-place finishes. The boys took first with 197 team points. Tonganoxie finished second with 165 points. The girls were second with 107 team points, just 17 points out of first. The Tonganoxie girls earned first with 124 points.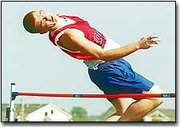 "On the guys side, we had so many good performances, Durkin said."
Junior Nate Cleveland vaulted his personal best with a height of 12 feet 6 inches, a half foot higher than the second-place finisher. Cleveland cleared the 12-6 height and decided he wanted to keep going for a shot at breaking the school record of 13 feet. He came close but didn't make it.
"He's doing great," Durkin said in the middle of Cleveland's last three attempts. "We've raised the bar to 13-1 and he's got one jump left."
Cleveland's 12-6 vault was a foot higher than his best vault last year.
"I was pretty happy with myself today," he said. "Twelve-six is my new personal best. I could tell that, when I was up there, it didn't seem like there was that big of a difference between 12-6 and 13-1."
Cleveland said he has worked hard to improve his vault this year. With work and a new pole, Cleveland is confident he'll break the school record this season.
"With just a little hard work, I'll get up there," he said. "I'm so happy right now; it's the highest I've gone in my life."
Sophomore Seth Mullis was also feeling good after securing first place in the triple jump with a jump of 40-10, which was his farthest trip in the event.
"I was very impressed with my jumps," Mullis said. "My previous best had been 39-6. I liked having the home crowd here today. It was a nice feeling; 40-10 is just incredible."
Mullis will be working toward the school best of 46-1/2.
"If things keep going as they have been, I think I'll be very capable of doing it."
Junior Josh Bowser also made a leap toward the school record in the long jump. He finished first with a jump of 21-1.5, a foot short of the school record.
"Josh is getting so much stronger and faster," Durkin said. "If he keeps working at it, he's going to break it."
Sophomore Joe Born finished first in the shot put with a throw of 44-7.
The running events also proved to be prosperous for the boys.
Junior Zac Tyler won the 400-meter dash with a time of 52.34 seconds. He also finished first in the 200-meter dash posting a time of 23.68.
Senior Brian Harris posted a 41.65 effort in the 300-meter hurdles for a first-place finish. He beat his personal best time by two seconds.
Senior Aaron Slavin dominated in the 800-meter run, 2:10.59, and the 1600-meter run, 4:49.84.
The boys' 4x800-meter relay team crossed the finish line in 9:04.64 for another first-place posting. The 4x100 relay also finished first in 45.41.
The girls had just 15 competing, but hung tough at home. They placed in all but two events.
"The girls really stepped up in front of the home crowd," Durkin said. Sophomore Jenny Durkin earned first early in the high jump with a jump of 4-10.
"I did pretty well, but there were only five of us out competing," she said.
Jenny Durkin still has her sights set on 5-4 or 5-6 this season.
Junior Jill Abel finished first in the 3200-meter with at time of 14:20.19.
Junior Brandi Abel jumped 15-5 1/2 in the long jump for second place and a personal best. She finished third in the triple jump with a distance of 31-5.5.
In the boys shot put, freshman Chance Rowland threw the shot 30 feet for third place.
The girls' 1600-meter relay team took third with a time of 4:28.53. The 3200-meter relay was second in 11:37.12. The 4x100-meter relay finished first in 53.86.
Freshman Anna Fernandez and junior Lacey Deathe tied for third in the pole vault with a vault of 6 feet. Freshman Rachel Abel finished first in the 220-yard dash with a mark of 28.17. She also ran the 100-yard dash in 13.71 for third place.
Sophomore Sarah Abel was third in the 440-yard dash in 1:05.02.
The Cardinals will host their next meet Friday at 4 p.m. with the Cardinal Relays.
"I hope having another home meet will be great for us," Durkin said. "Our kids are really getting competitive. If they work hard all week in practice, then they can put everything to the test."
Eudora will travel to Perry-Lecompton Tuesday and Silver Lake April 27.
More like this story