Senior services agency expands transportation options
Eudora seniors will have more transportation options this fall with the help of the Douglas County Senior Services.
Douglas County Senior Services (DCSS) will expand its transportation service within Eudora this October, giving seniors more opportunities to travel both around Eudora and to Lawrence. Seniors may want to use this service for going to the grocery store, medical appointments or shopping, said Jessie Ann Lusher, director of DCSS.
"We do currently offer service but it's very limited and it's not real convenient for Eudora," she said.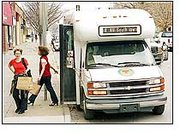 The transit bus curently operates between 9:30 a.m. and 2:30 p.m., Monday, Wednesday and Thursday, taking passengers to and from Lawrence. On those days, transportation within Eudora is available from 11 a.m. to 1:15 p.m. on Monday, Wednesday and Thursday and also on Friday.
Lusher said the new times will give Eudora residents more time to spend in Lawrence if needed, but will also accommodate those needing more transportation times locally. The times have not yet been set.
"We'll increase that in-Eudora time, but we haven't received a lot of requests," Lusher said. "Hopefully, once we increase these hours the requests will increase."
With current times, Lusher said, seniors have little time to complete their activities or errands in Lawrence. DCSS offers daily programs throughout the week and some Eudora residents use the bus for transportation to those programs, she said.
"The time they are able to spend in Lawrence is very limited," Lusher said. "It's primarily people who attend our adult day program. It's really not been convenient at all."
Another agency provides transportation for the elderly and disabled, but also extends to the general public. Independence Inc., Lawrence, runs from 8 a.m. to 5 p.m. and services Eudora.
Transportation coordinator Patty Holt said she has "quite a few" residents in Eudora that use the agency's service.
"I've got folks up in Eudora who come up once a week and go bowling," Holt said. "I try to get people up here for whatever they want to do."
The non-profit agency uses buses and two mini vans, all lift-equipped for those with wheelchair or other needs. Holt said she does some transportation within Eudora, but mainly caters to those traveling to and from Lawrence.
"Right now, most of the calls I get are for medical or shopping," she said "I've got a lady there in Eudora that cannot even get a ride from her home to the beauty shop. So, we go and pick her up and take her."
DCSS receives funding from the Area Agency on Aging, but the buses run with a suggested donation. Currently, passengers pay $1 per one-way trip. Lusher said the cost is expected to rise and could jump up to $2 or $2.25.
"We haven't increased our suggestive donation in years and we're nearly needing to do that," she said. "Hopefully, our senior services will be better for the people in Eudora."
For more information on the transportation service, call DCSS at 842-6976.
Seniors can use Independence, Inc. for transportation, with a $1 donation for elderly and disabled, $2.50 for the general public. All suggested donation prices are for one way trips. Independence Inc. can be reached by calling 841-0333.