Pinecrest crafter carves niche for upcoming fair
Bertie Norriss has been involved in some form of art for much of her life. The 78-year-old Pinecrest resident is a veteran painter, but after taking a woodcarving class from Pete Lawson, she was addicted.
"I've just been doing the carving a couple of years," she said. "I got hooked on this carving but I just love it."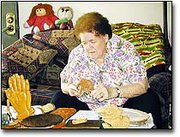 Pinecrest residents will hold an arts and crafts show from 9 a.m. to 5 p.m., May 12, in the Pinecrest II clubhouse. Noriss will be among the residents from the independent living facility who sell and display items their crafts.
Among her items are carvings of Jayhawks, letter openers, praying hands, crosses and playing card boxes.
Norriss said she occasionally sells carvings to individuals and has sold at crafts fairs held at the Eudora Nursing Center. One of Norriss' more popular items is her handcrafted letter openers, with handles shaped like boots, knives and other decorations.
"It looks great but it was just a block of wood when I started," she said.
Woodcarving is a great timekiller, Norriss said. She recommended elderly people find a hobby they love to do and invest their time for their own well being.
"I think anybody in their 70s or 80s should get a hobby like this to pass the time," she said. "It keeps your mind occupied, keeps you younger.
"It's therapeutic for me to have something to do besides just sitting around and watching TV."
For more information on the arts and crafts fair at Pinecrest, call 542-1020.