Eudora athletes bring home Sunflower medals
Six Eudora athletes traveled to Lawrence for the annual Sunflower State games and drove back on K-10 with medals in their hands.
Eudora High School junior Jenny Durkin gained a personal best five-feet two-inches' en-route to a silver medal effort in the high jump, girls' 17-18-year-old division. Durkin narrowly missed winning a medal in the triple jump event, placing fourth with a 31- 6' jump.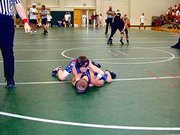 EHS sophomore jumper Joey Donahue won a silver medal in the long jump, 15-16 year old division. Donahue jumped 5.9 meters in his runner-up effort to Drew Morano of Paola.
Eudora resident Darin Schmitz, a former Kansas University track athlete, earned a gold medal in the hammer throw (50.48 meters) and a runner-up finish in the discus (43.82 meters). Schmitz also competed in the shot put but did not medal in that event. The Sunflower State Games marked the first time the 1999 KU graduate competed in front of his young daughter, Kelcey.
"I was happy with the distance and I think it looked good for a comeback," Schmitz said. "It was really neat to throw and see my daughter put her hands in the air and say 'dada.'"
Other track and field competitors from Eudora were Kayla and Courtney Chilcoat. Kayla competed in the 11-12-year-old divisions of the 100-meter dash, the 200-meter dash and the long jump. Courtney participated in the 100-meter dash, the 200-meter dash and the 400-meter dash of the 9-10-year-old division.
Two Eudorans raced toward bronze medals in their age divisions during the 5K Governor's Cup Run. Former EHS track star and current Fort Hays State University (FHSU) junior Jessa Stein finished third in the 20-24-year-old division with a time of 22:27.78. Stein, who competes in cross-country, the steeplechase, and 3,000-meter run for FHSU enjoyed the weekend run in Lawrence. her second time running in the event.
"It was good to go out there and compete again," Stein said. "A lot of the people that I competed against in high school were there. It was good to see them again."
Cathy Cain earned a bronze medal in the 35-39-year-old division by finishing the 5K race in 29:50.11.
Kendra Howard, Steve Howard and Linda McCampbell also took part in the annual 5K race.
Eddie Henault knocked down a first place finish in the Bowling competition's 21-54 Scratch Division while Valerie Pringle competed in the 5-6-year-old division in Tae Kwon Do forms and sparring. Jamie Andrews participated in the 18-35 sparring division.
The Sunflower Games were also a family affair for some Eudorans this summer. Ryan and Chase Chamberlin competed in the golf tournament while Will Cokeley and eight-year-old son, Ryne both traveled to Free State High School in Lawrence for the wrestling competition.
Will, a former FHSU wrestler, said he enjoyed helping his son improve in the sport that brought him a great deal of success. Ryne Cokeley has been wrestling with the Overland Park based East Kansas Wrestling Club for three years.
"Wrestling is something I can teach Ryne," Will said. "I wrestled my whole life and it also gives us quality time together."
More like this story